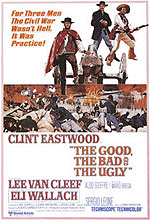 The Man With No Name learns that the town of San Miguel is controlled by two rival gangs, one headed by Ramon Rojo, the other by Sheriff John Baxter. After shooting four of Baxter's men, he's signed on as a hired gun by the Rojos and witnesses the gang's ambush of a group of Mexicans who had been guarding a shipment of gold. He sets the two gangs against each other and rescues a woman held hostage by the Rojos. The stranger is then captured and beaten by the Rojos but escapes. The gang think the Baxters are holding him and attack and wipe out the whole clan. Then the stranger returns, kills the remaining Rojos and rides out of town.
Leone approached Clint again in the spring of 1965 to appear in a sequel, 'For A Few Dollars More'. This would have a budget of $600,000. Another American actor, Lee Van Cleef and an Italian star Gian Maria Volonte had been signed to appear. Eastwood was now aware of his drawing power in Europe and was able to demand and get a salary of $50,000.

Set in a period following the American Civil War, it concerns the efforts of two bounty hunters to track down a particularly nasty killer, Indio, who has a price of $100,000 on his head. The Man With No Name is interested in the money, the other bounty hunter, Colonel Mortimer, is hunting Indio because he was responsible for the death of Mortimer's sister. The two team up, gain Indio's confidence and are invited to join his gang on a bank raid. The raid is carried off so swiftly and efficiently that the two bounty hunters are unable to stop it. They manage to steal the money from the bandits, but are captured and tortured. Indio sets them free, and then sends his gang after them to kill them. The two men manage to shoot every one of Indio's gang and The Man With No Name lets Colonel Mortimer avenge his sister's death.

The third 'Man With No Name' feature was an epic, with a budget of $1,200,000. Clint was to be paid $250,000 and a share of the profits. Lee Van Cleef also starred, but this time not as Colonel Mortimer, but as the evil Setenza. Another American actor, Eli Wallach, was signed to complete the trio in 'The Good, the Bad and the Ugly'. During the American Civil War, three men are searching for a cashbox containing $200,000 in stolen money. A Mexican gunman called Tuco, the criminal Setenza and The Man With No Name.