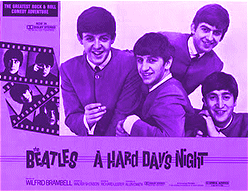 In 1962 Capitol Records in America were still refusing to issue Beatles products. Noel Rodgers, the British representative for United Artists Records, was witnessing Beatlemania first-hand in London and was convinced that it would inevitably reach the States. He approached Bud Ornstein, the British production head of United Artists film division, with the suggestion that they offer The Beatles a three-picture deal in order to obtain three Beatles soundtracks. They were both primarily interested in obtaining The Beatles on record for UA and didn't initially realise how big the films would be.

Because of this they opted for a cheap budget and approached Walter Shenson, who'd been making low-budget films in Britain, asking him to produce. Shenson chose Dick Lester as his director. When the meeting to discuss the deal was arranged with Brian Epstein, Ornstein and Shenson had agreed that they would be prepared to give The Beatles 25% of the net profits, together with a flat fee of £20,000. They were surprised when Epstein said, immediately, "I should warn you now. I'm not prepared to settle for less than 7.5%". Fortunately, due to The Beatles' continuing success, Ornstein voluntarily increased the share to 20% and their flat fee to £25,000.

In an interview, Shenson commented, "Now I've got The Beatles, do I need stars? Are they necessary, even playing bit parts? My guess is, no. It would be all wrong to have, say, Kenny More or Dirk Bogarde appearing with the boys, though maybe not Margaret Rutherford. I have a hunch the fans would love her. But say, just say, It was Hayley Mills - will they feel resentment of her?".
A teenage daughter of a friend said to him, "Oh Mr Shenson, I'm just praying there'll be no love interest in your Beatles film!". He took the girls advice and decided not to include any romances for The Beatles. He also eschewed big name stars, giving the largest non-Beatles role to Wilfred Brambell, known for his leading role in the BBC TV sit-com 'Steptoe and Son'.