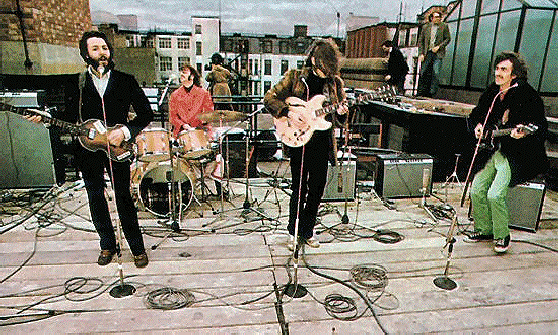 "I didn't want to make a straight documentary. I figured if we just showed them working, we'd learn quite a bit about them. But I did want an ending. We all sat around and talked about that, finally deciding to go to Africa. If was to be a sort of super 'Hey Jude' – the boys singing 'Hey Jude' 8,000 times all over Africa. We hired a plane and were ready to leave for Tunisia and that's when George walked out. He quit the group, said he was through, washed up, that's it. He'd been scrapping endlessly in the sessions at Twickenham Studios. He absolutely hated the place, said it was like a gymnasium. George returned after a week, but wouldn't go to Twickenham. Africa was now out, so I got them to agree to walk up two flights of stairs to the Apple roof".
Lindsay-Hogg then mentioned they'd had an idea of introducing an actor in policeman's uniform who would come to interrupt the session and be quite rude to them.
...... "but when we shot it honestly, and the real Bobbies arrived, it was so charming we didn't do that. They called in the Black Marias and all that, but they were quite nice. We thought it would be good to show how nice some policemen can be."

On this particular scene, Michael Goodwin of Rolling Stone was to write: "In the last part of the film, a sequence where the Beatles play on the rooftop of the Apple building, there are these cops who came up to investigate the noise. We first see them outside, in the street, as they walk up to the front of the building. They open the door (this is shot from outside), and as they do so there is a cut to a reverse angle, in which we see them completing the action (opening the door) from the inside. Now this is a perfectly reasonable editing sequence for a film shot in a studio with actors, but I find it a little hard to believe that such a perfect matching shot could have been made in a documentary situation. So the next logical question is: were those cops or actors?"

There are 22 numbers featured in the film, most of them performed during the studio recording. The boys are seen playing, talking, eating, relaxing; the various people who appear in the film include Billy Preston, Derek Taylor, Yoko Ono, Mal Evans, Michael Lindsay-Hogg, Heather McCartney and George Martin. The Twickenham Studio setting is featured for approximately an hour's screen time and the film's most exciting moment is when the Beatles emerge onto the Apple roof, overlooking Burlington Gardens. There are edited sequences of the 40 minutes they spent on the windswept roof, including the entry of the police and comments from people in the crowds that gathered in the streets below. One man, obviously incapable of appreciating that the fun of life needn't be restricted to outside business hours, comments: "This kind of music is very good in its place, but it's a bit of an imposition when it disrupts all the business in the area".