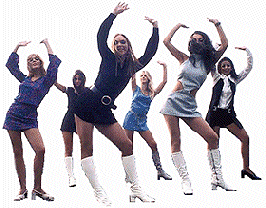 The popular 'Top Of The Pops' dance troupe, Pan's People, began appearing regularly on the series from May 1968. Producer Johnny Stewart had decided to use dancers when an artist wasn't able to attend and perform as this was in the days prior to the development of the pop video, and the girls were introduced into the series, which was then recorded in Manchester, following its launch in 1964. There had previously been another dance troupe on the weekly series called the Go Jo's. Initially the Go Jo's comprised three female dancers and was then enlarged to six.

The Go Jo's had been formed by Jo Cook, a member of the Beat Girls, who were featured in the weekly BBC2 show 'The Beat Room'. The initial dancers had been Jo, Linda Hotchkin and Jane Bartlett. Jo then began to concentrate on choreography and managing the group and Thelma Bignell and Barbara van der Heyde were recruited.

By 1968 they had become a six-piece with the inclusion of Lesley Larbey and Wendy Hillhouse. They made their final appearance on 'Top of the Pops' in June 1968 dancing to 'Jumpin Jack Flash' by the Rolling Stones.

The five girls in Pan's People had appeared on previous TV shows and in a TV series in Amsterdam, but it was on 'Top Of The Pops' that they became tremendously successful. The original personnel were Felicity 'Flick' Colby, Ruth Pearson, Babs Lord, Dee Dee Wilde, Louise Clarke and Andrea 'Andi' Rutherford. Babs, Ruth and Dee Dee had been members of the Beat Girls.

There was an internal disagreement within the outfit and three of them walked out, with Ruth approaching Flick Colby for an audition for the forthcoming troupe of Pan's People.