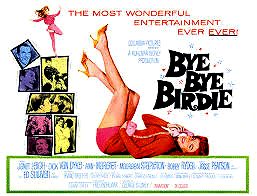 A satire on a rock and roll singer, directed by George Sidney, who had directed musicals such as 'Pal Joey', 'Showboat' and 'Kiss Me Kate.' The 135 minute film, released in 1963, was based on the Broadway musical which had opened in April 1960 and was obviously inspired by the announcement in 1958 that Elvis was being drafted into the army and the hysteria of his female fans when they heard the news. Both Dick Van Dyke and Paul Lynde, from the original stage production, were featured in the movie. The choreography was by Onna White. The original book was by Michael Stewart and the additions in the film screenplay by Irving Brechner strayed away from the stage musical in various ways. The music was by Charles Strouse and Lyrics by Lee Adam.

Conrad Birdie (Jesse Pearson) is an Elvis-like singer whose fans are devastated when he receives his draft papers. Songwriter Albert Peterson (Dick Van Dyke) is currently in debt and sees a way out if he can get Birdie to record one of his songs before he enters the army. Albert's girlfriend, Rosie DeLeon (Janet Lee in a black wig), is the head of Birdie's fan club and hatches a publicity stunt that will help both artist and songwriter. She meets Ed Sullivan and proposes that he has Birdie on his show, in a farewell performance, before entering the army.

Birdie will sing a song and then give a goodbye kiss, as he joins the forces, to one of his female fans representing the young teenage girls of America.
Sullivan likes the idea and tells her to go ahead. Albert and Rosie also hope that the money he'll earn from a hit song will lead to them getting married and Albert moving away from his possessive mother Mea (Maureen Stapleton). Checking her fan club database, Rosie picks on Kim McAfee (Ann-Margret) from the small hick town of Sweet Apple, Ohio. Kim has just received a pin from Hugo Peabody (Bobby Rydell) officially confirming that he is her boyfriend.