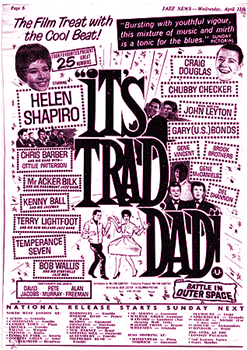 The brief plot revolved around Craig (Craig Douglas) and Helen (Helen Shapiro), who are among the young residents of "a New Town which must remain nameless" who enjoy listening to Trad Jazz on the jukebox of a local coffee shop.

The town Mayor (Felix Felton), together with his councillors, decides to ban the use of the jukebox as he believes it has a harmful effect on teenagers. The two youngsters decide that they mustn't allow their favourite music to be banished and decide to prove its popularity by organising a rock and jazz concert.

They visit a radio station, engaging the help of a disc jockey. When the Mayor hears about the concert he decides to try and prevent it happening and finds a way to block the coach carrying the disc jockey and entertainers with the use of a series of traps, even having the police erect a road block. Craig and Helen manage to fill the gap until the coach finally gets through by presenting some of the local talent. Seeing how much the youngsters are enjoying the music, the adults grudgingly accept that they were wrong. Liverpool actor Derek Guyler, who was to appear in 'A Hard Day's Night' was the narrator.

Trad jazz (in Dixieland style), had received a surge of interest in Britain, but it was soon to die down.
If the film had concentrated on the jazz artists it would rapidly have become dated, however, a number of popular music acts were included as well as American rock and R&B artists among the 26 musical numbers featured in the film.

The jazz groups were Chris Barber's Jazz Band, with Ottilie Patterson (performing 'Down By the Riverside' and 'When the Saints Go Marching in'), Acker Bilk & His Paramount Jazz Band (performing 'Frankie & Johnny'), the Temperence Seven (with 'Everybody Loves My Baby' and Let's Have A Dream) and the Dukes of Dixieland, Kenny Ball & his Jazzmen, Bob Wallis & his Storyville Jazzmen and Terry Lightfoot and his New Orleans Jazz Band (There Is A Tavern In The Town).

The British pop artists were Helen Shapiro ('Let's Talk About Love','Sometime Yesterday'), Craig Douglas ('Rainbows', 'Ring-A-Ding Day'), John Leyton ('Lonely City'), the Brook Brothers ('Double Trouble') and Sounds Incorporated (backing Gene Vincent). The American artists included Del Shannon ('She Never Talked About Me'), Chubby Checker ('Lose Your Inhibition Twist'), Gary U.S. Bonds ('Seven Day Weekend'), Gene Vincent ('Spaceship To Mars'), Gene McDaniels ('Another Tear Falls'), the Paris Sisters: Albeth, Priscilla, Sherrell, ('What Am I To Do?').