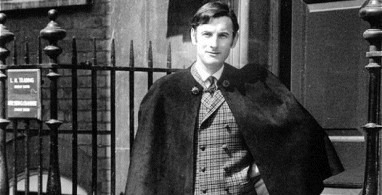 The last sight Adamant sees is that of The Face kissing the hand of Louise. The year is 1902. 64 years later, in 1966, during work on a building site, the block of ice is discovered and Adamant is revived. He is so overwhelmed by the sights and sounds – traffic, transistor radios, women in outrageous fashions, huge neon signs, that he faints. He's rescued by a young mini-skirted girl, Georgina Jones, who joins him on a series of adventures in 'Swinging London'.
Due to the fact that his fortune has increased tremendously as a result of compound interest, Adam is a wealthy man. He buys a penthouse overlooking the River Thames and hires a butler, William E. Simms, a former music-hall artist, who proves an invaluable ally. Over the years, Louise has attended to the frozen body of The Face, and revives him from suspended animation. She is now an old woman and The Face poisons her, resulting in a vow from Adamant that he will avenge her.

The series starred Gerald Harper as Adamant, with Juliet Harmer as Georgina, Peter Ducrow as The Face, Mary Yeomans as Louise and Jack May as Simms. Among the guest players in the series were John Le Mesurier, Peter Vaughan, Michael Ripper, Patrick Troughton, Kate O' Mara and Windsor Davies. The BBC destroyed many of the episodes, but a number were traced and issued on video.