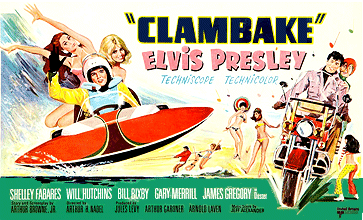 A United Artists release. Directed by Arthur N. Nadel and Ladislav Smocek, and scripted by Arthur Browne Jr, it was given a national release in America on 22nd November 1967.
The original title for the movie was 'Too Big for Texas' and the cast included Elvis as Scott Heyward, Shelley Fabares as Dianne Carter, Will Hutchins as Tom Wilson, Bill Bixby as James J. Jameson lll, Gary Merrill as Sam Burton and James Gregory as Duster Hayward.

Elvis starred as Scott Heyward, son of an oil millionaire, who wants to find a girl who loves him for himself and not because he is the heir to a fortune. In a 'Prince And The Pauper' theme he swaps places with a water-ski instructor. Scott meets Tom Wilson, the ski instructor, at a hamburger stand and when a girl pays attention to Scott because of his flash red convertible he bemoans the fact that women choose him, not for himself, but because they know he's rich. He tells Tom, "I'd like to know it's myself, not my car, not money." Tom says, "That's the kind of problem I'd like to have, so anytime you want to switch places, just say the word."

Scott takes up the offer and becomes 'Tom' and the real Tom becomes 'Scott' and begins to enjoy the wealthy life style, spending lots of money and moving into Scott's luxury penthouse while the real Scott goes to work in the hotel as a ski instructor. There he meets Dianne, a beautiful girl who is after a rich husband.

She has set her sights on James J. Jameson, a power boat enthusiast who also owns a pyjama factory, and asks Scott to teach her to ski in her plan to ensnare the pyjama millionaire. Scott's father, Duster, doesn't approve of the situation with his son's change of lifestyle but decides not to interfere. When Scott sees that Jameson has begun to take an interest in Dianne he becomes jealous.