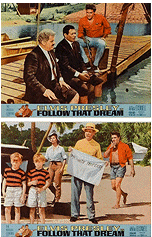 The 1962 United Artists film was based on the 1957 novel 'Pioneer Go Home'. When author Richard P. Powell heard it was to be a vehicle for Elvis, he wasn't pleased. He said, "I was shocked. I didn't think he'd do a good job". Powell told director Gordon Douglas, "My only real fear was that Presley would say to himself that this was a funny story and that he would have to act funny. The humour in the book was character humour, which had to be played straight, which he did and he did a very good job".
The screenplay, based on the novel, was written by Charles Lederer. As none of the songwriters commissioned to compose numbers for the movie could find a rhyme for 'Pioneer', the title was changed to 'What A Wonderful Life', then 'It's A Beautiful Life', next 'Here Come the Kwimpers' and finally 'Follow That Dream'.


The film opened nationally in America on 23rd May 1962.
Elvis takes the role of Toby Kwimper, member of a family with no set home who travel around America. The family car runs out of petrol in Florida and, when an officious state supervisor from the Florida Highway Department tries to run them off, an irate Pa Klimper decides to dig in his heels and they set up camp alongside the road.

There is a nice stretch of beach by the roadside and the Kwimper family, who comprise Pa, Tony and orphans Holly Jones, Adriane Pennington and the twins, Eddie and Teddy Bascombe, decide to homestead the land, building a lean-to and digging for water.

They make money selling tackle and bait to fishermen and, spurred on by their initial success, they go into business with their own pier and a fleet of row boats. It's not long before trailers and homesteaders move into the area beside them.

Two gamblers find that the homestead is outside municipal and county jurisdiction and make the Kwimpers an offer for their land, which they refuse. The gambling operators then enlist the help of the state supervisor H. Arthur King, who tells the Kwimpers they are trespassing on state land.

However, when the State Governor sides with the Kwimpers, King feels humiliated and vows revenge. Since the land the Kwimpers have homesteaded is unincorporated and therefore not under police jurisdiction, the pair of gangsters, Carmine and Nick, set up a floating crap game in a trailer, attracting noisy undesirables.

Toby is elected sheriff and manages to fight the gangsters and cause them to go, even innocently returning to them a package containing a bomb which they had planted. King then attempts to convince social worker Alisha Claypoole to prepare a report that Pa and Toby had never legally adopted the children and that they are unfit to look after them. When Toby rejects Alisha's advances, she files a court order allowing her to take the children away by citing Pa as a bad influence. Toby and Pop go to court, defend themselves and the judge orders that the children be returned to their care. Toby then realises he has fallen for Holly.
The cast were: Elvis Presley as Toby Kwimper; Arthur O'Connell as Pop Kwimper; Anne Helm as Holly Jones (Elvis dated her during the filming); Joanne Moore as Alicia Claypoole; Jack Kruschen as Charlie; Simon Oakland as Nick; Gavin Koon as Eddy Bascombe; Robin Koon as Teddy Bascombe; Pam Ogles as Adriane Pennington and Alan Hewitt as H. Arthur King.


The soundtrack was recorded at RCA Studios in Nashville in July 1961. The musicians were: Elvis Presley, vocals; The Jordanaires, backing vocals; Millie Kirkham, backing vocals; Scotty Moore, Hank Garland, Neil Matthews Jr, guitar; Bob Moore, bass; Floyd Cramer, piano; D.C. Fontana, Buddy Harman, drums.

An EP of the soundtrack was released on RCA EPA-4368 in May 1962 and reached No15 in the Billboard chart. The tracks were:
Side One: 'Follow That Dream', 'Angel'. Side Two: 'What A Wonderful life', 'I'm Not The Marrying Kind'.
'A Whistling Tune' was also recorded for the movie, but it was left out and included in 'Kid Galahad'. Elvis disliked 'Sound Advice' and requested it be left off the soundtrack. Tom Petty lived in the vicinity of the filming and says that he was compelled to become a musician after watching Elvis sing in the film.

'What A Wonderful Life' (written by Sid Wayne and Jay Livingstone) was sung over the opening credits;
'I'm Not The Marrying Kind' (written by Mack David and Sherman Edwards) was sung to Anne Helm on the beach;
'Sound Advice' (written by Bill Giant, Bernie Baum and Florence Kaye) was sung in the Kwimpers cabin;
'On Top Of Old Smokey' (the composer is unknown) was sung to Joanna Moore on the beach;
'Follow That Dream' (written by Fred Wise and Ben Weisman) was sung to Joanna Moore on the beach;
'Angel' (written by Sid Tepper and Roy C. Bennett) was sung on the porch of the Kwimpers cabin.