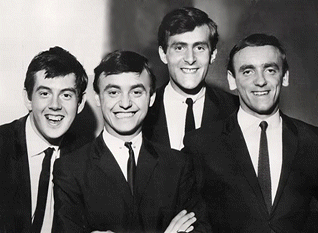 Gerry Marsden was born in Liverpool's Dingle area on 24th September 1942, the second son of Mary and Frederick Marsden. He lived in Menzies Street, close to where Ringo Starr was brought up. He left school at 15, initially working as a coalman, then for a short spell in the Kardomah tea factory before becoming a railway delivery boy. After his father bought him an acoustic guitar he decided to form a skiffle group with his elder brother Fred on drums, Tommy Ryan and Dixie Dean on washboard, Jimmy Tobin on tea-chest bass and Marty Summers on guitar. Brian O'Hara was also to join as a guitarist.

Known simply as Gerry Marsden's Skiffle Group, they made their debut at the Peel Street Labour Party Club in 1958.
Their next line-up comprised Gerry, Freddie, Jimmy Tobin on bass, Dixie Dean on washboard and Arthur MacMahon on piano. Gerry then bought his first electric guitar, a Futurama, at Frank Hessy's for £40. Now 16, Gerry named his group Gerry & The Mars Bars and his father, who was managing the group at the time, wrote to the confectionery company Mars for permission to use the name. They refused, so Gerry, after watching an athletics programme on TV in which the commentator mentioned a 'pacemaker', decided to call the group The Pacemakers.

By this time Les Chadwick had joined as bass guitarist. The group were to have a repertoire which comprised 250 numbers, including songs such as 'What'd I Say?' 'Skinnie Minnie', 'I'll Be There', 'Hallelujah, I Love Her So,' 'You'll Never Walk Alone', 'Save The Last Dance For Me' 'Will You Still Love Me Tomorrow' and 'Jambalaya.'

They began to build a strong following on Merseyside and were one of the groups Allan Williams initially asked to go to the Kaiserkeller club in 1960, before he'd even considered asking the Beatles. Gerry didn't want to give up his job at the time and turned him down.