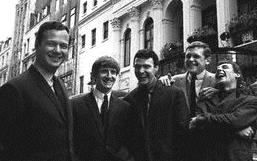 Brian (Owie) O'Hara and Joey Bowers originally teamed up as The Two Jays at the age of thirteen, performing for a season at the Isle of Man. They were joined by Billy Hatton and Brian Redman and, in September 1959, called themselves The Four Jays. Owie played lead, Billy was on bass, Joey on guitar and Brian on drums. The three guitarists also vocalised. The group had a rock/jazz/comedy act, but each member was pursuing a career and initially decided to remain semi-pro. Joey turned down an offer to join Jan Ralfini's Band at the Locarno, Billy turned down the opportunity of backing his friend Billy Fury, Owie the offer of joining a television group and Brian a position with the Nat Allen Band.

As the Four Jays, they appeared regularly at the Cavern with The Beatles and were the special guests on a Beatles Fan Club night on Thursday 5th April 1962. By mid-1962 an argument resulted in Joey leaving the group and Mike Millward, former member of Bob Evans and The Five Shillings replaced him. Redman left the group for three months to play in Hamburg on the assurance that his position with the group was safe, but on his return Owie told him they'd decided to keep his replacement, Dave Lovelady.

Later that year the group changed its name to The Four Mosts, having learned that a Southern group called the Four Jays was managed by London impresario Lou Prager. By the time Brian Epstein signed them on 30th June 1963, their line-up had settled at Mike Millward, Billy Hatton, Brian O'Hara and Dave Lovelady.