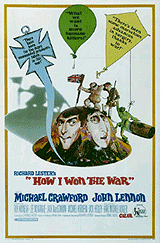 The United Artists synopsis of the plot, issued on the film's release, read: Lieutenant Ernest Goodbody (Michael Crawford) had a trying war. So did his men; mostly as a result of his trying. He was young, inexperienced. The Third Troop of the Fourth Musketeers was his first command. He was keen and saw war as a game, nobler even than his favourite sport of cricket. He loved his men and cared for them, and the more he loved and cared for them the more they hated him. It was no coincidence that his regimental number was 131313.

His Troop Sergeant Transom (Lee Montague), the regular soldier, the anchor man of the outfit, foresaw trouble the first time he clapped eyes on him. He was right... but somehow they staggered from campaign to campaign until destiny led them to the Western desert and their Finest Hour... In the end (which is the beginning) Goodbody was bound to get himself captured...it was inevitable.

Ostensibly leading his platoon on a night attack across the Rhine towards the end of the war, Goodbody finds himself alone in his rubber boat in the middle of the river.His men are nowhere to be seen. This does not surprise him unduly. It has happened before. He bumps ashore by a bridge, the last intact across the Rhine. In the first few frightened minutes of capture he begins to remember how it all started.

His training as an officer, his meeting with that veteran of veterans, Lt Col Grapple (Michael Hordern), who impressed him immensely, and who keeps turning up throughout his career to re-inspire him with the rousing cry "Bum on, young fella! Bum on!" - to the next place along the line ...Rome ...Paris ...Berlin ...Moscow...

... and then Egypt, and the days the jolly General puts an arm on his shoulder and murmurs softly, "Would you like to do something for me? Get away from here? See some action, eh?" "I would like you," said the General, "to nip 300 miles behind the enemy lines and set up an advance cricket pitch ...so that when the battle is over and the Very Important Person drives through, he will see the men, straight from battle, happy, relaxed, enjoying themselves ...you do that for me? Good show!"