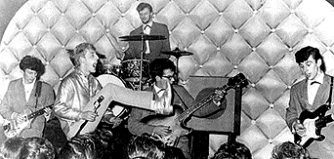 Rory's real name was Alan Caldwell, a former cotton salesman, who decided to form a skiffle group and, at the age of 18, the 6ft 2in blonde-haired singer opened the Morgue Skiffle Club in the basement at Balgownie, 25 Oakhill Road, Broadgreen on March 13th 1958. It was a large Victorian house, formerly a home for retired nurses, that could accommodate 100 people. Groups began playing from 7.30pm on opening night including his own band, then called Al Caldwell's Texans, and The Quarry Men who later evolved into The Beatles.

The police came down on 1st April and the club was forced to close on 22nd April. The Morgue had been open on Tuesdays and Thursdays and it was at the Morgue that George Harrison 'auditioned' for The Quarry Men and then became a member. At one time George dated Iris Caldwell, Rory's sister, and he used to hang around 'Stormsville' hoping that Rory would let him join The Hurricanes, but Rory regarded him as being just a young kid. 'Stormville' was an open house and Rory's mother, Vi, was always on hand to make cups of tea and bacon butties and chips for the numerous visitors who included George, Paul McCartney, Jimmy Tarbuck, Bill and Virginia Harry and numerous others.
Rory travelled to London on 11th April 1958 for a cross-country running competition. While in London he played a jam session at Chas McDevitt's skiffle cellar, as a result of which he arranged an appearance with his group, The Texans, on Radio Luxembourg on 30th April 1958 on the Amateur Skiffle Club programme playing 'Midnight Special.