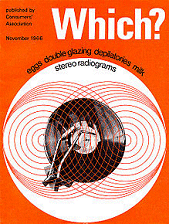 Which? Magazine

The interest and progress in American, German and Swedish consumer affairs was mirrored in the UK in 1957 with the launch of 'Which?' magazine, the external organ of the Association for Consumer Research (renamed 'The Consumer's Association' shortly afterwards), that started as a 32-page publication containing reports on electric kettles, cake mixes, sunglasses, aspirin, scouring powders, non-iron cottons and British cars.

The magazine was an immediate hit with the general public due to the fact that it carried out independent and authoritative testing on popular everyday products and also advised on the 'best buys'. The organisation attracted 84,000 members in the first year, rising to 150,000 in 1959, administrating the membership services from its offices in Hertford. By 1969 it had attracted 600,000 with members joining at the rate of 2,000 a week. In 1960, Which? assisted in the founding of the International Organisation of Consumer Unions (later Consumers International).

In 1962 it expanded its coverage with the launch of the first quarterly Which? car supplement (becoming Motoring Which? in 1965), followed by the introduction of Money Which? in 1968.
Products tested during the Sixties included contraceptives (in 1963) and paper dresses (in 1967).

Which? Magazine and The Consumer's Association sat happily in the gap between the technicalities of the BSI Kitemark (most people had no idea what a British Standard award actually meant) and the Council of Industrial Design's 'Design Index' of products which acclaimed aesthetic taste but stated nothing about performance, reliability or value.