Trivia and Quizzes
Sixties pop chart statistics, lists, music trivia and a collection of general Sixties quizzes and games to amuse yourselves with. Who was the most successful chart artist of the Sixties? Who were The Mars Bars? What was the first music played on Radio 1? (not 'Flowers In The Rain'!)? The general 'Sixties' quizzes have quite wide-ranging subject matter - I hope you find them interesting and informative. The 380+ questions are of varying difficulty - easy enough if you know the answers, but there may be a few teasers here to test you.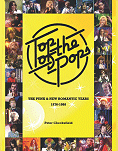 New Book Releases - 2021 and 2022 by Peter Checksfield including:
Undercover: 500 Rolling Stones Cover Versions That You Must Hear!
Mick and Keith learned fast. They released their first original song 'Stoned' as the UK B-side of their version of Lennon-McCartney's 'I Wanna Be Your Man' in November 1963; within 18 months they had written and recorded '(I Can't Get No) Satisfaction', and had become The Beatles' biggest musical rivals.

In the 60 years since they started, there have been thousands of Rolling Stones cover versions. Music historian Peter Checksfield listened to most of them (so you don't have to), and came up with the best 500, in a staggering variety of genres: Rock, Blues, Soul, Garage, Psych, Prog, Beat, Reggae, Ska, Pop, Funk, Disco, Country, Folk, Bluegrass, Rockabilly, Glam, Metal, Punk, New Wave, Indie, Gothic, Grunge, Rock 'n' Roll, Bossa Nova, World, Gospel, Electronica, Boogie Woogie, Jazz, even Cabaret, Polka and Classical.
Also included are a mammoth 130 exclusive interviews with many of the musicians involved.