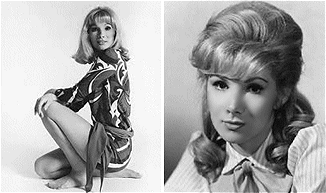 'A For Andromeda', the adult science fiction TV series screened in 1961, proved to be a major success and, by the final episode, had drawn an audience of 12.9 million viewers enabling the BBC to immediately commission a sequel. However, as the BBC refused to pay a £300 commission to re-hire Julie Christie, they re-cast the character of Andromeda with Susan Hampshire, much to Hoyle's annoyance as he felt Christie had been ideal in the role. The six-episode sequel' was written and created by Fred Hoyle and John Elliott and directed by John Knight. 'The Andromeda Breakthrough' was first transmitted from June 1962 in monochrome episodes, each lasting 45 minutes. The episode titles were:
Cold Front; Gale Warning, Azaran Forecast; Storm Centres; Hurricanes. The final episode 'The Roman Peace' was 50 minutes in length.

Having destroyed the alien computer, scientist John Fleming and Andromeda, the girl created by the computer, escape their pursuers. Although Andromeda was feared drowned when she fell into a subterranean pool, Fleming finds her, almost dead, on the edge of an adjoining pool and the two take shelter on a remote Scottish island. Due to injuries Andromeda sustained on her hands when she destroyed the alien computer, Fleming takes her to London to seek help from Professor Dawnay in healing her, although Dawnay is no longer there, having been taken by the Intel company.

Their flight to London has left them exposed; they are tracked down by the government and kidnapped by Intel. The sinister company has created a new computer based on blueprints stolen from the original project by Dennis Bridger. The second computer has been built in a Middle Eastern country, Azaran, but the world's weather is in turmoil due to an incident which happened when Fleming attempted to destroy the original computer.