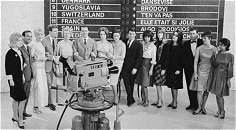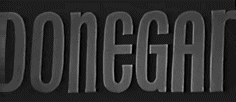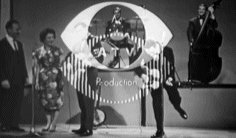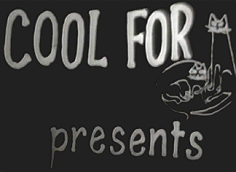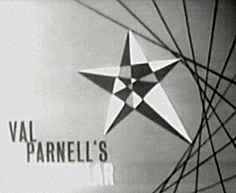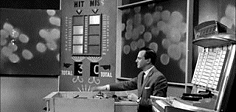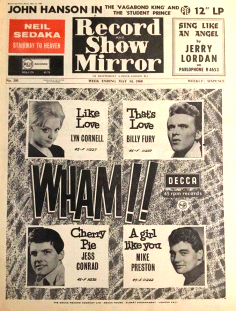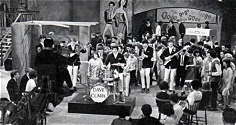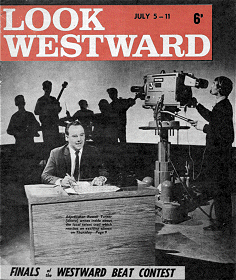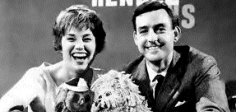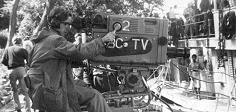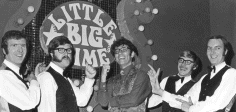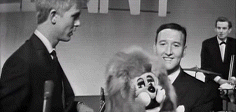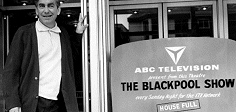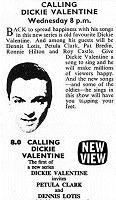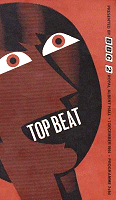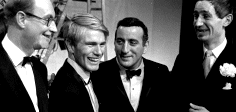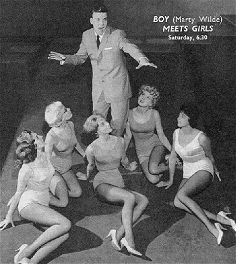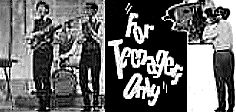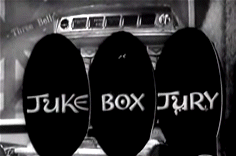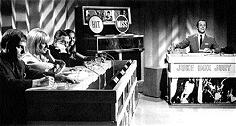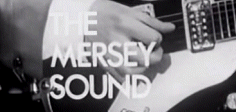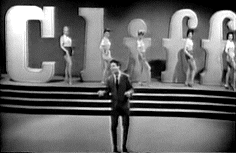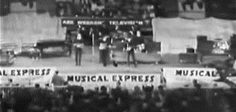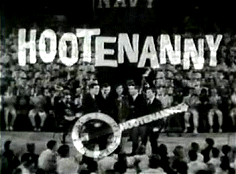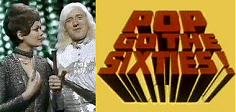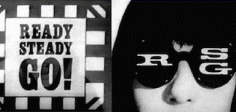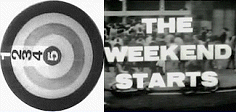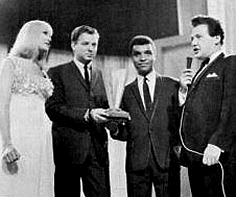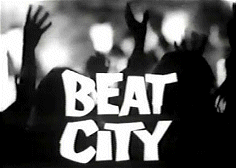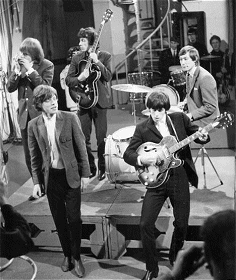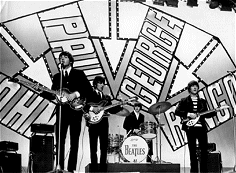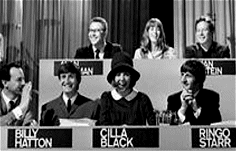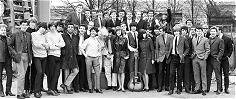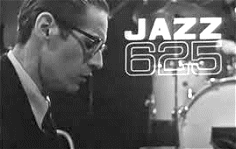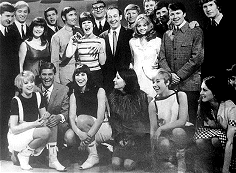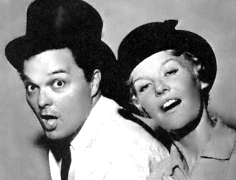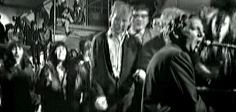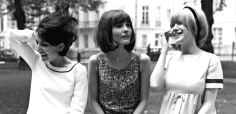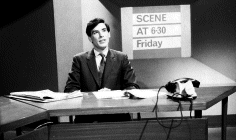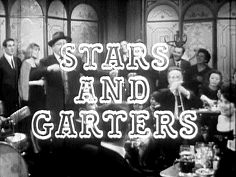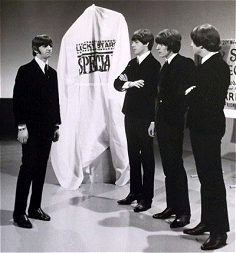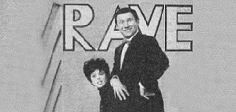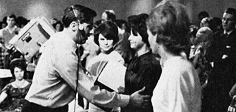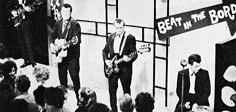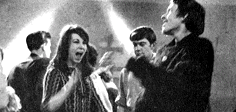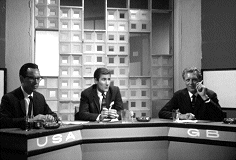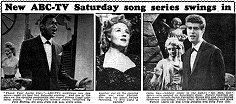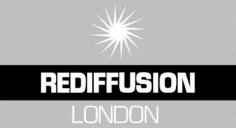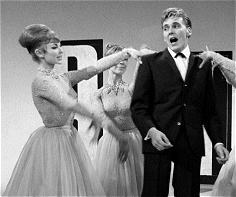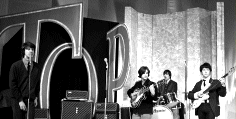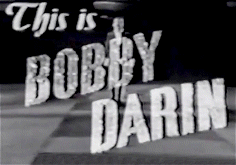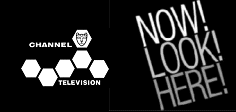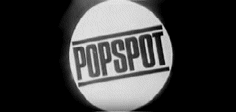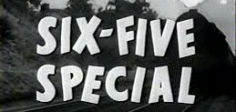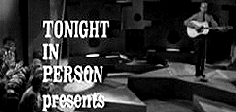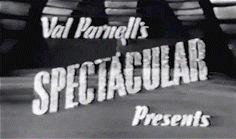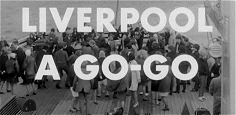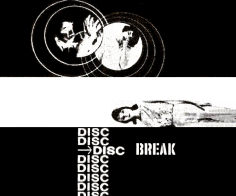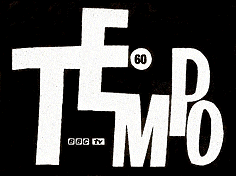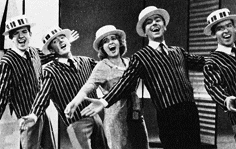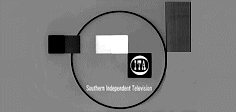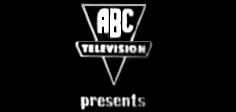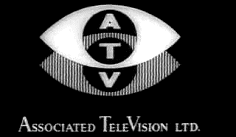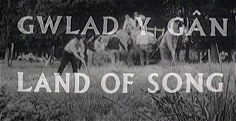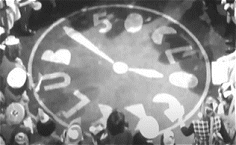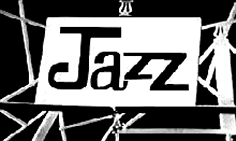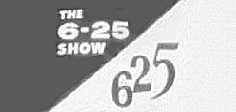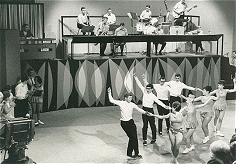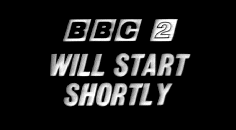 HIT PARADE
JAZZ SESSION
OFF THE RECORD
THE JACK JACKSON SHOW
MUSIC SHOP
THE TIN PAN ALLEY SHOW
MELODY RANCH
NUMBER PLEASE
ABC DISKERY
SPOT THE TUNE
PALAIS PARTY
HOUSEWIVES CALL THE TUNE
TIME FOR RHYTHM
BBC
BBC
BBC
ATV
ABC / ATV
BBC
ABC
ABC
ABC
GRANADA
REDIFFUSION
ABC
ABC

14th January 1952 - 18th August 1956
4th May 1954 - 27th August 1960
25th May 1955 - 13th March 1958
24th September 1955 - 17th June 1959
24th September 1955 - 10th January 1960
6th February 1956 - 9th July 1956 (fortnightly)
3rd March 1956 - 10th September 1958
6th May 1956 - 20th October 1956
19th May 1956 - 1st July 1956
7th June 1956 - 7th September 1962
8th June 1956 - 3rd July 1958
15th September 1956 - 6th April 1957
15th September 1956 - 27th October 1956
FAN CLUB
SIX-FIVE SPECIAL
TOP NUMBERS
TOP OF THE BILL
TOP TUNE TIME
OH BOY!
AFTER HOURS
DIG THIS
DRUMBEAT
RECORD SHOP
DISC BREAK
JOHNNIE RAY SINGS
BANDSTAND
ABC
BBC
ABC
ABC
ATV
ABC
ABC
BBC
BBC
REDIFFUSION
ATV
ATV
GRANADA
3rd November 1956 - 29th December 1956
16th February 1957 - 27th December 1958
18th August 1957 - 22nd February 1959
21st September 1957 - 30th November 1957
19th January 1958 - 22nd June 1958
15th June 1958 - 30th May 1959
5th October 1958 - 19th December 1959
3rd January 1959 - 28th March 1959
4th April 1959 - 29th August 1959
10th April 1959 - 19th June 1959
24th June 1959 - 29th September 1959
29th June 1959 - 10th August 1959
17th September 1959 - 23rd March 1960
---

THE EUROVISION SONG CONTEST BBC1 3rd March 1957 - every Year until 2020! Please see specific page on Eurovision
The Eurovision song contest and it's ancillary UK song-choosing series 'A SONG FOR EUROPE' have been televised virtually every year since the competition started in 1956 but the UK applied too late in the first year so did not actually enter the competition until 1957.



ABC MUSIC SHOP ATV 24th September 1955 - 10th January 1960
A 30 minute show seen at 3:00pm on Saturdays, hosted by Gerry Wilmot. During 1956 broadcast was alternated with ABC DISKERY. The first episode featured Patti Lewis, Bert Weedon, Marion Ryan, Tommy Maxwell / Ted Brennan Group, Lee Lawrence, Tennessee Ernie Ford and Peggy Lee.



SUNDAY NIGHT AT THE LONDON PALLADIUM ATV 25th September 1955 - 2nd February 1969
Also known as VAL PARNELL'S SUNDAY NIGHT AT THE LONDON PALLADIUM, a highly popular variety show which ran for 12 seasons from 25th September 1955, three days after ITV began transmission and eas hosted at various times by Tommy Trinder, Don Arrol, Bruce Forsyth and Norman (Swinging! Dodgy!) Vaughan. Although essentially a variety show featuring the high-kicking Tiller Girls and the public participation game 'Beat the Clock' , many mainline pop acts were featured including Frankie Vaughan, Dora Bryan, Russ Conway, Adam Faith, Helen Shapiro, The Bachelors, The Supremes and Frank Ifield. The first show featured Gracie Fields and American singing star Guy Mitchell. The Beatles appeared on 13th October 1963 and The Rolling Stones on 22nd January 1967, causing a furore by refusing to ride the 'turntable' at the end of the show.

In 1966 the name was changed to The London Palladium Show. Val Parnell also presented PALLADIUM PREVIEW ATV 1955, transmitted earlier the same evening in order to introduce the stars of that night's show. Other series and specials by Val Parnell included a show simply called VARIETY which was broadcast to open the ATV Midlands network on 17th February 1956, VAL PARNELL'S STARTIME ITV 1956-60 (originally called VAL PARNELL'S VARIETY STARTIME), YOUNG AND FOOLISH ITV 1956, FOLIES BERGERE REVUE - PARIS BY NIGHT ITV 9th September 1956, VAL PARNELL'S SUNDAY SHOW ITV 25th June 1961 starring Tommy Steele and many others, some of which are featured elsewhere on these pages, and NEW LOOK ITV 1958 - 1959 which gave up and coming talent a chance to be seen on television. Performers included Roy Castle, Jack Douglas and Bruce Forsyth.



THE ARTHUR HAYNES SHOW ATV 2nd January 1956 - 30th April 1966
A hugely popular and successful long-running late-night 30 minute comedy programme that lasted for 158 episodes over 14 seasons, written by Johnny Speight and mainly starring Arthur Haynes, Dermott Kelly, Tony Fane, Jack Parnell, Freddie Frinton, Patricia Hayes and Nicholas Parsons. Hobo Haynes and a collection of other working class characters fought back against the authorities and anybody else who might look down on them. The show always included an entertainment interlude in which virtually all the current chart stars appeared at one time or another, as well as a huge number of famous guests. see IMDB



THE BILLY COTTON BAND SHOW BBC 29th March 1956 - 20th July 1968
168 episodes of the television version of The Billy Cotton Band Show was first seen on 29th March 1956 as a pilot show. The next went out on 22nd May, followed by a series of fortnightly, or sometimes monthly (depending on Cotton's tour commitments) episodes produced by Brian Tesler. Cotton was a somewhat reluctant TV star, but was persuaded to join in with dance numbers by The Leslie Roberts Silhouettes, a troupe specially assembled for the series. Regular guests were Russ Conway, and later Mrs Mills. Other guests included comedians like Tommy Cooper, Harry Secombe and Ted Rogers, and new pop singers such as Adam Faith and Cliff Richard. In 1957 Cotton's son, Bill Jnr, took over the series production, later becoming Managing Director of BBC Television.

1958 brought a new format to the show, the regular show alternating with one coming from the 'Wakey Wakey Tavern'. At Christmas 1958 the show provided one of the segments of the first CHRISTMAS NIGHT WITH THE STARS. In February 1959 the series celebrated its 50th edition. One 1961 edition featured Hollywood legend Bob Hope. In autumn 1962 producer Bill Cotton Jnr left the programme to be replaced first by Johnnie Stewart and, soon after that, by Michael Hurll who would remain as producer for the rest of its run. In 1965 the show was renamed BILLY COTTON'S MUSIC HALL and, in November 1966, the 150th edition of the show went out from the Talk of the Town night club by Leicester Square. The last show was on 20th July 1968. Cotton made one more show, THE COTTON CLUB, for BBC2 on 27th October 1968, his only colour TV broadcast.



VAL PARNELL'S SPECTACULAR ATV 10th November 1956 - 18th November 1961
A 60 minute show originally titled SATURDAY SPECTACULAR (which has led to the series commonly being known as VAL PARNELL'S SATURDAY SPECTACULAR), which usually focussed on a single star per broadcast. The series started with The Gracie Fields Show (10th November 1956). After the appearance of jazz singer Mel Tormé, the following weeks failed to produce the international stars promised by Parnell failed to materialise and more 'British' stars like Tommy Steele, Dickie Valentine and Lonnie Donegan were featured. The show mixed live comedy and sketches with the musical performances so other guest hosts and headline stars included Johnnie Ray, David Whitfield, Cliff Richard, Connie Francis, Bob Monkhouse, The Beverley Sisters, Shirley Bassey, Arthur Haynes, Lionel Blair, Kenneth Connor, George Formby, Pat Coombs, Irene Handl, Anthony Newley, Nicholas Parsons, Arthur Askey, Roy Castle, Gracie Fields, Hughie Green , Frankie Vaughan, Nat 'King' Cole, Guy Mitchell, Sammy Davis Jr, Sid James, Peter Sellers, Tony Bennett, Bernard Bresslaw, Harry H Corbett, Clive Dunn, Bruce Forsyth, Pinky and Perky, Kenneth Williams, Alma Cogan, Jim Dale, Diana Dors, Benny Hill, The Shadows, Petula Clark, Duane Eddy, Billy Fury, Adam Faith and Morecambe & Wise.

Several of the episodes produced as VAL PARNELL'S SPECTACULAR (Sundays from 10th November 1956 - 1961) were billed as THE CLIFF RICHARD SHOW, featuring Cliff, The Shadows and others, supported by Jack Parnell and his Orchestra with singer Peter Eliot and the George Carden dancers. Saturday 19th March: Alfred Marks, Maureen Renè, Peter Crawford Trio, Dave Sampson & The Hunters. The theme for the first half of this show was about Cliff Richard and The Shadows returning to England from their recent European tour with the second half featuring Cliff and The Shadows performing several songs. The show closed with Cliff singing a solo 'goodbye' to viewers.


Saturday 21st May: Monica Zetterlund, David Kosoff, Janette Scott, Al Saxon.

Saturday 30th July: Cherry Wainer, Don Storer, Norrie Paramor, Tito Burns, Bernie Winters.


STARTIME ATV 1956 - 1960
Also known as VAL PARNELL'S STARTIME and VAL PARNELL'S VARIETY STARTIME, an eclectic, periodically shown variety series of 'specials' which included stars such as Alma Cogan, Petula Clark, Russ Conway, The Clyde Valley Stompers, Helen Shapiro, Ronnie Hilton, The King Brothers and Jackie Trent.Val produced a number of variety series for ITV including simply VARIETY which opened the ATV Midlands network on 17th February 1956, and VAL PARNELL'S SUNDAY SHOW 25th June 1961 starring Tommy Steele.



COOL FOR CATS ASSOCIATED REDIFFUSION 31st December 1956 - 27th February 1961


One of the first programmes dedicated to popular music, five shows were initially planned and it was shown in the London area at 7.15pm on Mondays (later changed to Thursdays), presented by journalist Ker Robertson who also chose the records. There were few live appearances, usually one guest per week, but consisted mostly of dancers performing enthusiastically to the sound of the latest records. Among the dancers who appeared on the show were Una Stubbs, Amanda Barrie and Patsy Rowlands. It also contained a curious theatric clip shown over some music in a sequence called 'Cats on the Tiles'. After a short time Robertson was replaced by a younger presenter to appeal to the youthful audience, Kent Walton, but continued to select the records. The 15-minute, twice weekly show (the second a repeat) increased in popularity, was later expanded to half an hour and, by June 1957, it was being nationally networked twice a week. On its 100th edition, in May 1958, the show played its 1,000th record. Among its directors were Joan Kemp-Welch, the show's creator, and Brian Taylor. Douglas Squires commented "The show communicated itself to audiences young and old. Television camera tricks abounded - superimpositions, mirror shots... if it was new trickery, and available, we did it - live!".



GWLAD Y GAN TWW 14th January 1958 - 1964


'Land of Song' was a weekly television series made in Cardiff by Television Wales and the West (TWW) and networked to ITV stations. Broadcast live from the Pontcanna studios, it attracted audiences of up to 10 million people. It featured traditional Welsh music and song, with costumed performers and choreography, and starred Welsh baritone Ivor Emmanuel, aiming to celebrate Wales within Wales and beyond. Broadcast in Welsh (with bilingual captions and voice-overs) it was broadcast initially for forty minutes, at 6.15pm on Sunday evenings, later extended to an hour. Its signature tune was the traditional Welsh folk-melody Llwyn Onn (The Ash Grove) and each show had a theme such as the countryside or the seaside. Ivor Emmanuel led the larger set-pieces and, in between, were scenes for other soloists, duets or quintets, encompassing the rich musical tradition of Wales, from choral numbers to gentle folk ballads, humorous songs and , normally ending with a Welsh hymn tune.



THE SUNDAY BREAK ABC 16th March 1958 - 28th August 1965
The Sunday Break was presented on three Sundays out of four. Described as "a magazine programme for young people", it was originally set in a youth club and included jazz, dancing, discussions and competitions in such a way as to promote the positive side of the activities which young people normally enjoyed. In 1960 the format was brought closer to that of a magazine programme, and discussions and documentary films on the problems of young people began to play a larger part in its content.



STUDIO DOWNBEAT SCOTTISH (STV) 1958 - 1963 unknown transmission dates


Billed as 'a jive and twist contest among Scottish clubs', the show was presented by Raymond Boyd and was a huge favourite with teenagers, regularly featuring special guest stars including Clinton Ford, Shane Fenton and Don Spencer. The musical director was George Keenan. The latest fads in fashion that presenter Ray Boyd demonstrated helped popularise the show, and he said of it: "I love it, it allows me to keep in touch with my many pop star friends". In the early 1960s, Lionel Blair joined the programme to judge the dancing in what was STV's top-rated pop and jive show and he said: "Scottish kids have got the talent to be the swingest kids in Britain. Glasgow's a swinging city but the kids need more places to dance. Glasgow ought to open 'discettes' where young people can jive and twist to records!". To celebrate five years on air in 1962, Gerry le Grove produced TELETHON, at that time 'unique in British television'. Three STV studios were linked up to broadcast a continuous stream of local programmes including STUDIO DOWNBEAT, a special evening edition of The One O'Clock Gang, plus a 70 minute edition of Here and Now. The evening ended with STV managing director Noel Stevenson taking part in the final Epilogue.



RUSS CONWAY BBC 20th May 1959 - 8th September 1961
Pianist and composer Russ, who had a string of piano hits in the late fifties and early sixties, starred in 18 episodes of his show for the BBC. Three series, from 20th May 1959 to 8th September 1961, produced by James Gilbert, Yvonne Littlewood and Billy Cotton. He also performed regularly on The Billy Cotton Band Show.



PUTTING ON THE DONEGAN ATV 26th May 1959 - 5th June 1964


Seven series of 30 minute shows that featured the skiffle superstar Lonnie Donegan, with The Raindrops and Jackie Lee. It was produced / directed by Albert Locke and Rita Gillespie, with the first show being seen on 30th June 1959. The sixth series in 1963 had the title DONEGAN'S ON AGAIN, reverting to the original title for the seventh series which ended on 5th June 1964. One or possibly two 'specials' were also shown on 10th and 25th August 1962.



JUKE BOX JURY BBC1 1st June 1959 - 27th December 1967 Please see specific page on Juke Box Jury



TAKE IT EASY SOUTHERN 6th July 1959 - 16th March 1960
This series introduced Jim Dale as host. Original director Helen Standage left the station and the new director was Canadian Lorne Freed (from STV's One O'Clock Gang). The first show went out on July 6th 1959 at 12.47pm and was shown three times weekly (Mon-Wed) with ATV's Lunch Box being shown Thursdays and Fridays. With a script by Dick Vosburgh, singers featured included Janie Marden and Joyce Clark. Other regulars were the Malcolm Mitchell Trio, and Dany Clare, who took over from Janie Marden during December 1959. The Liddell Triplets also made several appearances in 1959. The final programme was on Wednesday 16th March 1960.



BOY MEETS GIRLS ABC 12th September 1959 - 5th March 1960
Directed by Rita Gillespie, 26 episodes of BMG were the successor to the Fifties programme 'Oh Boy!' which had finished a fewmonths earlier and, like the previous show, was again produced and presented by Jack Good, Cherry Wainer and Don Storer, sax star Red Price, and now with occasional assistance from Marty Wilde. Resident vocalists were Joyce Smith and Maggie Stredder. Most episodes were broadcast live each week from ABC's Manchester Studios. Regular performers were 'Jack Good's Firing Squad' and The Vernons Girls with the show introducing a multitude of famous acts. This was, in turn, succeeded by WHAM!!



BE MY GUEST BBC 8th October 1959 - 25th December 1961
A 50-minute musical variety show presented by singer Joan Regan that ran for 28 episodes over five seasons, supported by The George Mitchell Singers - series 2 and The Polka Dots for 19 episodes series 3 to 5.
Produced by John Street (16 episodes, 1960-1961) Albert Stevenson (6 episodes, 1961) Francis Essex (3 episodes, 1959) Russell Turner (3 episodes, 1960).



MAKE A DATE ABC 12th March 1960 - 16th April 1960
Also known as THE ERNEST MAXIN SHOW, he had already enjoyed a long career in show business and had produced over 200 TV variety shows by 1960 when ABC asked him to host his own 6-episode music and variety series. Although Maxin was the producer of the show, he also performed in front of the cameras to act, sing, dance, conduct a 42-piece orchestra supported by the Cedrik Monarch Dancers, and hosted many guest stars who included Charlie Drake, Petula Clark, Craig Douglas, Adam Faith, Alma Cogan, Michael Holliday, Dave King and Anna Neagle. Maxin also produced the sitcom 'Our House' (1960), THE KATHY KIRBY SHOW (BBC 1964) and the comedy show Miss Adventure (1964).



THE LUNCHTIME SHOW SOUTHERN 30th March 1960 - 1st April 1961
Jim Dale moved on to The Lunchtime Show which began on Wednesday March 30th 1960, running three times weekly, Wednesdays to Fridays, at 1.05pm. It included regularly weekly items by Julie Harris (fashion), Gerald Campion (food) and Roy Rich as a DJ in an 'On Record' spot. Musical backing was provided by The Art Jones Quartet. Special guests included Max Geldray, Shirley Sands, Victor Soverell, puppeteers Joan and Paul Sharratt, Russ Conway with his new record 'Lucky Fives' (4 May), Nat Gonella, Rosemary Squires, Ray Allen, Terry Burton, Mike Preston, Tim Field, Dean O'Brien, Allan Bruce, Valerie Masters, Victor Feldman, Eddie Falcon and Shirley Norman. Dec 23rd week had guest Marion Williams. Lunchtime programmes on Southern were scrapped from 1st April 1961.



THIS IS BOBBY DARIN ATV 23rd April 1960 Please see specific page on Bobby Darin
This edition of Val Parnell's Spectacular saw Bobby Darin hosting the show assisted by DJ Pete Murray, performing and introducing other artists including Duane Eddy and the Rebels, Rosemary Squires and Clyde McPhatter. Darin performed 'Guys and Dolls', 'The Gal That Got Away', 'La Mer (Beyond the Sea)', 'Clementine' and 'Mack the Knife'. Duane Eddy performed 'Shazam' and 'I'm Just A Country Boy'. Clyde McPhatter performed 'Think Me a Kiss' and, with Bobby playing piano, 'Have Mercy Baby'. Rosemary Squires sand 'Solitude' with dancing by Irving Davies and Frances Pidgeon. Darin was interviewed by Pete Murray followed by a short dance lesson from Irving Davies. Rosemary Squires joined Darin to sing 'Crazy Over You'.



WHAM!! ABC 23rd April 1960 - 18th June 1960
Made at the ABC Television Studios in Manchester, a Jack Good show which brought Keith Fordyce to the fore as a television pop presenter. As in his previous two series, the Vernons Girls were the resident dancers and artists appearing included the top names of the time, including Jess Conrad, Dickie Pride, Billy Fury and Johnny Kidd and the Pirates although in this series Good guaranteed he would feature at least one new act in each show.The first show on 23rd April 1960 featured Billy Fury, Joe Brown and The Bruvvers, Jess Conrad, Dickie Pride, Little Tony, Vince Taylor and Johnny Kidd and The Pirates. The house band – a 20-piece brass ensemble – was known as Jack Good's Fat Noise. Musical direction was by Syd Dale, dance direction by Leslie Cooper, script by Trevor Peacock. Directed by Ben Churchill and produced by Jack Good, each show was just under 30 minutes long and broadcast at 6pm. The series only lasted for 9 programmes over 8 weeks. No video or audio is known to have survived. The Sound Of Fury LP by Billy Fury features a front cover photograph of him in a gold suit, believed to have been shot on the set of Wham!! as he bought the suit especially for the show.



YOUNG AT HEART TYNE TEES 4th May 1960 - 18th April 1962
This programme was one of Tyne Tees first attempts at targeting a teenage audience and one of the very first regional early evening pop shows. Screened at 6:30p.m. it was hosted by Jimmy Saville and Valerie Masters, with the initial planned series running for a grand total of eight weeks. Although the programme was transmitted in black and white, Jimmy presented each week's show with his hair dyed a different colour each time! Dennis Ringrowe was the musical director. Only scheduled for an eight week run the show included music and comedy aimed at the youth audience and would, according to Disc magazine, feature "an LP record quiz, a teenage fashion contest and a record request session". Following this first series, which ran from 4th May 1960 - 22nd June 1960, it was re-launched the following year. Singer Gary Marshall was hired for the re-launch which began on 31st May 1961. In the Record Mirror he said "Peter Glover is directing the series and it looks as if I shall have plenty of scope over writing the script". By the start of 1962 the show had reached its fourth series and was featuring a strong line up of international artists despite not being networked. The Clyde Valley Stompers were a regular band.



TEMPO 60 BBC 13th May 1960 - 24th June 1960
Originally due to run for 13 weeks, only seven episodes of the show were broadcast, on Fridays at 7.30pm from the BBC Television Theatre at Shepherd's Bush, London in front of an audience of seven hundred people. Frank Berry fronted the show, with The Tubby Hayes Combo and Helio Motta and his Orchestra. The designer was Stanley Dorfman with production by Stewart Morris and appeared to use a similar stage setup to 'Dig This'. It was an intention of the producer to reunite Tubby Hayes with jazz saxophonist Ronnie Scott, but other forms of modern popular music, like Latin-American, were also be included. Although it was planned for comedian Frank Berry to carry out interviews with visiting American stars, the British Musicians Union would not allow them to play.

A way around this ban was investigated with the use of Eurovision in order to have British acts playing simultaneously with acts playing in Europe so Stewart Morris visited Paris in order to get acts for the show. Tubby Hayes commented "I was feeling a bit depressed about the future recently. But now everything's changed. I'm longing to get cracking. I've started writing things already". ATV were also proposing a new jazz show to be broadcast in April just before Tempo '60's debut but it never materialised, having to wait until 1962 for 'All That Jazz'. Intended to run until late July, the BBC claimed in late June 1960 "Tempo 60 was an experiment which has not worked to our satisfaction. We are discontinuing it". Talking to Disc magazine a BBC spokesman claimed "We had intended to bring over several artists from the Continent and inject a different atmosphere into the programme. The BBC feel, however, that the show has not reached the required standard". The intended replacement for the show was 'SUGAR BEAT', a more pop music oriented show.



THE TIN PAN ALLEY SHOW ATV 25th June 1960 - 30th July 1960
Jack Parnell became head of music for ATV in 1956, a post he would hold for the next twenty years. He fronted several shows himself including this 6-episode series which featured many of the popular musicians of that time. Jack presented singer Emile Ford with a gold disc on the show. There was an unrelated series of the same name broadcast by the BBC in 1956. Set in a nightclub, the show looked at the pop world, hosted by Australian actor Vincent Ball and produced by Josephine Douglas. It was intended to take Wham's time slot, but wasn't purely constant music as many of the guests were journalists, songwriters and disc jockeys along with the guest artists and a film spot each week. Jack Parnell's band provided the musical backing. Episode 1 25th June 1960: Lionel Bart, Emile Ford, The John Barry Seven, The Kaye Sisters. Episode 2 2nd July 1960: Johnny Dankworth, Jack Jackson and others. Episode 3 9th July 1960: Eric Delaney Band, Michael Holliday and others. Episode 4 16th July 1960: No details. Episode 5 23rd July 1960: No details. Episode 6 30th July 1960: Shirley Bassey, Ronnie Hilton and others. The NME for 24/6/60 says "The 'Tin Pan Alley' TV series captures more top names (The King Brothers, Michael Holliday, Roy Castle and Tommy Bruce)" but doesn't specify appearance dates.



STEAMBOAT SHUFFLE ABC 6th August 1960 - 27th August 1960
Directed by Ben Churchill, a short 4-show 30-minute saturday jazz series made at ABC's Teddington studios and filmed on a specially-constructed 100ft replica Mississippi riverboat named Cottontail. The series featured Kenny Baker and The Swamplanders (a specially formed 11-piece band) as the resident group with vocalist Peter Elliott. Other bands and artists featured were Humphrey Lyttelton, Acker Bilk, Alex Welsh, Kenny Ball, Mike Daniels, the Al Fairweather and Sandy Brown All Stars, Bob Wallis and the Storyville Jazzmen, Cy Grant, Chas McDevitt, Shirley Douglas, Dickie Pride, Don Rennie, Joanne Scoon, Kenny Lynch, Maggie Fitzgibbon, Marion Williams, Elaine Delmar and Doreen Beatty.



SUGAR BEAT BBC 16th September 1960
This series was originally due to succeed Tempo 60, planned to begin 5th August at 7.30pm, but the late-night 'Music for Moderns' was transmitted instead. Talking to Disc magazine, the show's producer, Russell Turner, said "'Sugar Beat' is to be a fast moving show. I am not seeking another 'new sound' - I intend to produce a distinctive one, with the appeal on quality, both in the numbers selected and the musicians. I will use the world's great standards and the best of the current pops. The orchestration will consist of eighteen pieces, fronted by Johnnie Spence, and I will include two vocalists, Paul Hanford, who has recently signed to Parlophone, and Sheila Southern. At present, I do not intend to regularly use any guest artists, but top stars may be invited from time to time. My basic aim is to try and create my own stars from the series".

The pilot show was broadcast but the BBC were unsure about the future of the show. The week after the show was broadcast, Turner claimed in Disc magazine "I'm happy, but not completely satisfied with the sound of the band" and was later to admit it was abandoned "because the new, original sound which we wanted has not yet been found". The pilot show was hosted by Paul Carpenter. The Radio Times entry for Friday 16th September 1960 stated: BBC Television 19.30 - 20.00 pm The sweetest of old and new popular music presented in the modern manner. Introducing Sheila Southern, Paul Handford, Ray Noon, Kenny Lynch, Sandra Gale, The Brook Brothers and Danny Martin with your host Paul Carpenter and The Sounds of Sugar Beat directed by Johnnie Spence. Production: Russell Turner.



CALLING DICKIE VALENTINE ATV 1961 unknown transmission dates
This series for the popular fifties and early sixties singer was also produced by Colin Clews. Dickie Valentine (born Richard Maxwell) sang and introduced guests such as Petula Clark, Roy Castle, Cleo Laine and Dennis Lotis. The regular team on the show included The Malcolm Goddard Dancers, Douglas Squires, Ronnie Curran, Alex Morrow, Hal Chambers and The Jack Parnell Dance Band.



OUR KIND OF GIRL ATV 1961 unknown transmission dates
Produced by Jo Douglas, the series featured Alma Cogan, 'the girl with a laugh in her voice', with musical backing by the Alyn Ainsworth orchestra. Alma appeared prolifically on television in the late fifties and early sixties, sadly dying of cancer at the age of 34 on 26th October 1966. She had already had a 30-minute six-episode series on the BBC in 1957, THE ALMA COGAN SHOW, produced by Douglas Moodie, and an ATV show in 1959 ALMA COGAN INTRODUCES.



ALL KINDS OF MUSIC ATV 1961 unknown transmission dates
This was a series of shows organised by Val Parnell featuring a selection of artists including Kenny Ball and his Jazzmen, Nina and Frederick, Adele Leigh and Janie Marden.



SUMMERSONG ASSOCIATED REDIFFUSION 1961 unknown transmission dates
This was a series of 60-minute music shows produced by Alan Morris and set outdoors, with The Johnny Dankworth Orchestra joined by guests such as Cleo Laine, Dennis Lotis, Lynn Cornell, Craig Douglas, Matt Monro and Dudley Moore. A dance sequence filmed by Anglia at Winterton in July 1959 was included. No broadcast dates.



INTERNATIONAL STARTIME BBC1 January 1961 unknown transmission dates
Cabaret-style variety music show starring Frankie Vaughan. In December 1960 Billboard magazine announced this as 'There will be a weekly series in the New Year called "International Startime"; This already has shows promised by Connie Francis, Frankie Vaughan and Gracie Fields and the BBC is negotiating with several Americans'. There was a 'Startime' show featuring Frankie and Cilla Black at The London Palladium and a radio show of that name starring Gracie Fields.


THE RUSS CONWAY SHOW ATV January 1961 unknown transmission dates
After a couple of successful seasons for the BBC this was his first series for ITV. The producer was Colin Clews. On 25th January 1961 it was the top rated TV show. He returned to the BBC for another series in August 1961.



CRESCENDO ANGLIA 10th January 1961 - 25th May 1961
Directed by June Howson, this short-lived series was Anglia's only real contribution to TV pop history. It appears to have been a thirty minute early evening show and was partially networked from Anglia to STV, Southern, and TWW. Backing music was provided by the Johnny Dankworth Band, with Roy Allen's dancers also appearing. The 9th March edition featured Bobby Rydell and Sheila Southern.



THE CLIFF RICHARD SHOW ATV 16th February 1961 - 23rd March 1961


Cliff's first television series of his own, the 1961 series consisted of six half-hour shows starting 16th February and produced by Dinah Thetford. It was made for a family audience, featuring Cliff Richard supported by The Shadows, Jack Parnell's Orchestra and The Vernons Girls dancers. Guests included Petula Clark, Marty Wilde, Dickie Valentine and Alma Cogan. This first series ended 23rd March 1961 but subsequent series were produced in 1964 by Jon Scoffield and in 1967 by Dicky Leeman. The 1965 season was broadcast as CLIFF AND THE SHADOWS. Cliff also made several shows and series for the BBC.



BIG NIGHT OUT ABC 25th March 1961 - 10th April 1965


A variety entertainment show with 54 x 50-minute episodes, shown over 5 series, which was broadcast once or twice monthly (mainly from various seaside resorts) and quite eclectic in content. The first six-episode series had various hosts and included the first NME Poll Winners Concert to be televised and a 'circus spectacular'. Peggy Lee was the subject of another one-off 'spectacular' on Saturday 26th August 1961. The second season was hosted by Paul Andrews and, from the third season onwards, mainly Mike and Bernie Winters. Regularly featured were The Lionel Blair Dancers and Bob Sharples with The ABC Television Showband while guests included Don Arrol, Billy Dainty, Jackie Trent, Kathy Kirby, Lionel Blair, Russ Conway, Diana Dors, Dickie Valentine, Bob Monkhouse and The Beatles (7th September 1963 and 29th February 1964). Most of the top performers of the time appeared on one or more of the shows. The producer was Philip Jones.



THANK YOUR LUCKY STARS ABC 1st April 1961 - 25th June 1966 Please see specific page on Thank Your Lucky Stars



STRICTLY FOR THE BIRDS SOUTHERN 15th May 1961 - 6th November 1961
Strictly for the Birds was a jazz series that commenced on 15th May 1961 and ran throughout that summer. This was a late night 30 minute series directed by Peter Frazer-Jones, of special interest because the Dudley Moore Trio were resident guests, along with Bobby Sansom. Alex Orgar, the roving jazz reporter, linked the series. Special guest on the first programme was Cleo Laine.



SHOWDATE ANGLIA June 1961 - 19th September 1961
Showdate was a 13 week series, the last being shown on Tuesday 19th September. Screened from 8:00pm to 9:00pm it included a talent contest, which over a thousand local acts entered, auditioning at the Theatre Royal, Lowestoft. It also gave beauty queens the chance to become Miss Anglia 1961, the finals being filmed on 17th September at the Britannia Theatre, Great Yarmouth, with the winner also going on to compete in the national finals for the title of Miss TV Times. Hosted by Sheila Buxton, a guest singer was introduced each week, including Tony Brent, Billy Fury, Humphrey Lyttelton, and Russ Hamilton. In the final show Sheila was joined by Marty Wilde and Derek Roy. The success of this series led to a 60 minute show GLAMOUR '62 and further shows in subsequent years until 1968.



THE ADAM FAITH SHOW ASSOCIATED REDIFFUSION 21st June 1961
Directed by Grahame Turner, this was Adam's first prime time 'special' with guests Adele Leigh, Richard Wattis and Dick Charlesworth and his City Gents. Special guest star was Tony Bennett and musical backing was by the Tony Osborne orchestra.



THE TRAD FAD BBC 1st July 1961 - 23rd September 1961
Produced and directed by Johnnie Stewart, this series of 13 x 30 minute late night episodes featured all the top jazz bands and singers of the time. Excerpts from the series were used to make the short film 'Trad Fad And All That Jazz'.



THE JO STAFFORD SHOW ATV 9th September 1961 - 18th August 1963
This 9 x 60 minute series of 'specials' was mainly produced by Associated Television at the Borehamwood Studios in Hertfordshire. Jo Stafford was an American singer of traditional pop music and jazz standards whose career ran from the late 1930s to the early 1960s, by which time she had sold in excess of 25 million records. At Stafford's personal request she was accompanied on stage for the series by the British vocal group, The Polka Dots. This series of variety specials aired periodically over a 2 year period starting on 9th September 1961. The shows were later syndicated to AmericanTV in 1963 / 1964. Each show had its own 'theme'. The first show dealt with the basic differences in the English language as spoken in America and the UK. Guests in this show included Graham Stark and Peter Sellers.

One show dealt with the subject of love and Stafford was joined by Ella Fitzgerald for a musical medley while Claire Bloom recited verse and Kathleen Harrison and George Benson performed in a sketch. Another show on travel starred Kenneth More who brought with him the vintage motor car 'Genevieve' as seen in the movie of the same name. Other guests included Roy Castle, Peter Lawford, Edd Byrnes, Rosemary Clooney, Peggy Lee, Bob Hope, Benny Hill, Harry Secombe and Mel Torme. Other themes included the four seasons, chivalry and big bands. One show was recorded at the London Palladium and starred Robert Morley, Stanley Holloway and Morecambe and Wise. 1. The Language of Language 2. Transportation 3. The Language of Love 4. The Four Seasons 5. The Jo Stafford Christmas Show 6. The Age of Chivalry 7. The Great All-Star Show 8. The Swing Era 9. At The London Palladium



TUESDAY RENDEZVOUS ASSOCIATED REDIFFUSION 12th September 1961 - 24th September 1963
This was a childrens entertainment show which evolved from SMALL TIME in 1955 and LUCKY DIP in 1958 and was transmitted on Tuesdays and Fridays, presented by Howard Williams, guitarist Bert Weedon (periodically) and the almond-eyed Muriel Young ably assisted by glove puppets Pussy Cat Willum and Fred Barker. The shows had many segments in a 'Blue Peter' style and also included a pop spot called Star Record Guest, featuring virtually all the chart-topping artists and groups at one time or another - not bad for an 'under 12' show. It originally filled the 'children's hour' from 5:00pm - 5:55pm but was changed to just a 25 minute slot in summer 1963.

The last show was on 24th September 1963 but Young and Williams returned the following week with THE FIVE O'CLOCK CLUB, by which time another puppet character, a Liverpudlian owl called Ollie Beak, had joined the show. From 1965 the show was known as OLLIE AND FRED'S FIVE O'CLOCK CLUB with Muriel Young as the sole presenter. This show finished on 2nd September 1965 to be replaced by FIVE O'CLOCK FUNFAIR, hosted by Marjorie Sigley, and lasted until 2nd December 1965. 7th December 1965 saw the return of the FIVE O'CLOCK CLUB, in its Tuesday and Friday slots, with Muriel Young returning, along with ex-Viper Wally Whyton (who was Ollie Beak's voice!) and another regular, Tommy Quickly. Other 'guest' comperes included Gerry Marsden, Una Stubbs, Mitch Murray, Bill Boyle and Joe Brown. This sequence of related programmes ended on 23rd September 1966.



SPIN ALONG WESTWARD 12th September 1961 - 1962
An early 30-minute programme for young people was Spin Along, a regional pop music programme presented by disc jockey Alan Freeman and host Leslie Hoare. The first edition was broadcast on Tuesday 12th September 1961 at 6:15pm, in place of Westward Diary and was broadcast until 30th November 1961. A second series began on 24th September 1962 at a later time of 7pm.



DISCS A GO-GO TWW 14th September 1961 - 15th December 1965
213 episodes of this classic show were hosted by Kent Walton, later better known for his Saturday afternoon wrestling commentaries. The show's theme was 'Starfire' by The John Barry Seven, composed by Jerry Lordan. Tony Prince hosted 3 episodes of the show before joining Radio Caroline as a deejay. Paul Raven (Gary Glitter) also appeared in the first show. Unusually, for this time, the regular dancers on the show were a husband and wife team of mixed race, selected by producer Chris Mercer. it was taken by some stations (STV, Ulster, TTT, Anglia (from Mar 12th 1962), Border, Westward periodically, and briefly WWN), although it was never screened by the London region as its format was considered to be too similar to RSG!. Each act was set up in different locations on small boxed stages and during each performance acts were herded by floor managers, with instruction boards, to each location to be recorded. The show was recorded for later transmission, with many of the acts miming. Malcolm Goddard staged the dances, early programmes also included a puppet created by Frank Mumford.

Many of the episodes featured a sequence of cartoons, an early version of the 'pop video'. David Hoey recalled some of these cartoons, "one of which was 'The Girl from Wolverton Mountain' by Jo Ann Campbell (1962), another was 'Do You Hear What I Hear?' by Bing Crosby (1963), this one being shown for two consecutive weeks. Three other songs I remember were 'Starfire' by The John Barry Seven (1961), 'Bambino' by The Springfields and 'Sound of Silence' by Simon and Garfunkel (1965)". A Discs a Gogo badge was presented to audience members who came to dance on the show. The regular dance troupe were The Gojo's, choreographed by Jo Cook. Two of the regular dancers were Carol Rogers and Dudley Canvin. The last show on 15th December 1965 featured Major Lance, and Johnny Tillotson, although one further show called 'Gogos' was made to mark the channel TWW's demise on Saturday 2nd March 1968, produced by Peter Dulay and directed by John Scriminger, with host Tony Blackburn introducing The Symbols, Paul & Barry Ryan, Tomorrow & Keith West, Solomon King, Samantha Lee, accompanied by Bob Miller and the Millermen, with an interview with Englebert Humperdinck.



SAMMY DAVIS MEETS THE GIRLS ATV 18th November 1961
The 'girls' included Mandy Rice-Davies and Wendy Richard who made her first television appearance on this show.



THE SHADOWS SHOW ATV 1962 unknown transmission date
Produced by Dicky Leeman. Apparently a one-off show featuring the music of the phenomenally successful instrumental group, along with guest Frank Ifield.



GLAMOUR '62 ANGLIA 1962 - 1968 unknown transmission dates
A successful SHOWDATE series in 1961 led to this annual offering of a 'beauty contest' with musical entertainment content. At GLAMOUR '63 on 22nd August Shaw Taylor was the host, with Joan Ward, the 1962 winner as hostess. In GLAMOUR '64 the programmes were introduced by McDonald Hobley, assisted by Susan Denny. Some of the contestants achieved wider fame, including Jennifer Cresswell and Angela Daniels who became hostesses on Sale of the Century. GLAMOUR '65 was hosted by Pete Murray and Elizabeth Fox, where stars appearing included Helen Shapiro, Anita Harris, Jenny Johnson, Valerie Masters, and The Raindrops. GLAMOUR '66 was compered by Dennis Lotis, again assisted by Elizabeth Fox. GLAMOUR '67 again featured Pete Murray, with Bob Minkhouse, Barbara Law and Allan Smethurst 'The Singing Postman'. The GLAMOUR '68 Grand Final featured the winners from twelve heats, introduced by the regular Bob Wellings. Also appearing were Joe Brown, Madeline Bell and the announcer Earle Bailey. The judges were The Marchioness of Tavistock, Danny Blanchflower, Clifford Davis, Tania Mallet, and Dick Joice. The producer for this final was Bill Perry. Janie Marden appeared in the 18th July heat at Lavenham, and went on to make several (unsuccessful) records during the Sixties, as well as appearing as an actress in several television programmes.



PARADE ITV 1962 unknown transmission dates
This Canadian CBC series ran in Canada from 1959 to 1964 and was presented by ITV in 1962 as a series of special shows each showcasing a different singer. The series featured Canadian artists such as the Canadian Opera Company, Maynard Ferguson, Oscar Peterson, the Toronto Symphony Orchestra and the Billy Van Four.



A HANDFUL OF SONGS SOUTHERN TV 1962 unknown transmission dates
This was a 30 minute late night (11.10pm) series of six shows in Autumn 1962 starring Rosemary Squires.



ALL THAT JAZZ ATV 5th January 1962 - 29th June 1962
26 × 30 minute episodes in black and white were broadcast from 5th January to 29th June and shown on Fridays at 10.30pm. Producers: Dicky Leeman, Jon Scoffield, Orchestration: Jack Parnell and his Orchestra, Set Design: Henry Graveney, Inigo Monk, Michael Eve, Richard Lake, Bill McPherson, Alan Pickford, Director: Rita Gillespie. ATJ was a series of shows that actually had very little to do with Jazz but featured a wide variety of mainstream acts such as Karl Denver and Frank Ifield. Billy Fury, Johnny Dankworth and his Orchestra, The Brook Brothers, The Eric Delaney Band and Valerie Masters appeared on the first show and later guests included Chris Barber, Kenny Ball, Emile Ford and The Checkmates, The Dallas Boys, Cleo Laine, Frank Ifield, Roy Castle and Eden Kane. Producer Jon Scoffield stood in for Dicky Leeman for a couple of episodes midway through the show's run.



JUST TRAD WITH A TWIST GRANADA 17th January 1962
Broadcast on a Wednesday between 8.00pm and 9.00pm it was introduced by Gary Marshall and directed by Philip Casson. Much of the content is thought to have been taken from recordings of various performances and featured: Chris Barber's Jazz Band, Ronnie Scott, Ottilie Patterson, Betty Smith, The Viscounts, Tommy Whittle, Linda Scott, Chubby Checker, Terry Lightfoot and his New Orleans Jazzmen, The Galliards, Kathy Stobart, The Back O' Town Syncopaters, The Original Downtown Syncopaters, Peter Knight and his Orchestra.



BEAT IN THE BORDER BORDER 31st January 1962 - 11th December 1963


A 30 minute music and interview series broadcast about 6.15pm on Wednesdays from various locations. It ran for 47 episodes from 31st January 1962 to 11th December 1963. Presented by Rodney Warr, later Tom Edwards.



THREE OF A KIND SOUTHERN 12th February 1962 - 18th June 1962
19 episodes of this 30-minute show marked the debut of Jon Pertwee's long running association with Southern TV - on this occasion playing a guitar. This was essentially a guitar-based series with resident hosts Dorita y Pepe and Wout Steenhuis. Directed by Peter Frazer-Jones, the series did well in the Southern TAM ratings, and was also networked to Grampian TV.



SWINGING ALONG GRANADA 20th March 1962 - 19th June 1962
Directed by Phil Casson, the programme featured popular tunes sung each week by Marion Ryan, The King Brothers and Des O'Connor, supported by Johnny Spence conducting The Peter Knight Orchestra. The show was extended to fourteen editions from 8th May onwards when it was moved to a 7.00 pm transmission time.



LONDON vs. PARIS TWIST ASSOCIATED REDIFFUSION 9th May 1962
Producer Daphne Shadwell followed Twist dance competitions held in both capital cities, with David Frost introducing the 'heat' winners who competed for the grand prize and medals.



POPS AND LENNY BBC 10th May 1962 - 6th June 1963


This was a music-based follow up to THE LENNY THE LION SHOW (1957-1960). Lenny The Lion and his ventriloquist partner Terry Hall were amongst the most popular characters of early British children's television. Hall was one of the first ventriloquists to use an animal rather than a little boy as his dummy and Lenny was also one of the first to be given the ability to move his arms (he was prone to burying his head in embarrassment). One of Lenny's endearing qualities was his inability to pronounce his 'R's. Apart from the original series, there was LENNY'S DEN (1959 - 1961) and this 14-episode foray into the music world. Pops and Lenny is notable for the episode in which The Beatles made their second appearance on national BBC television. On Thursday 16th May 1963 the group arrived at Television Theatre in London at 1.30pm for a rehearsal, and the show was broadcast live in front of an audience from 5-5.30pm. The Beatles performed From Me To You and a short version of Please Please Me. At the end of the show they joined host Terry Hall and Lenny the Lion, plus regular cast members The Raindrops, Patsy Ann Noble and musicians The Bert Hayes Octet, for a one-minute rendition of the 1929 standard After You've Gone.



THIS IS SINATRA! ABC 2nd June 1962
On June 1st 1962, British television captured Sinatra during a midnight performance at London's Royal Festival Hall. The concert was part of Sinatra's World Tour for Children and his first personal appearance on British television. The taped program was broadcast a day later in an abbreviated form, introduced by David Jacobs.



NEEDLE MATCH ASSOCIATED REDIFFUSION 15th June 1962 - 11th September 1962
Producer Elkin Allan moved into the disc judging business rather late with this somewhat over-elaborate show which would only last three months. Other 'disc review' shows such as Juke Box Jury, Dad You're A Square and Spin-A-Disc had already been popular shows, but it was a comparatively cheap format to produce so AR decided to give it a try. Each week eleven members were selected from the audience (all from overseas) to vote on two record releases, one British and one American and would wave flags if they liked the disc. The person counting the votes was David Frost (just months before hosting the hugely successful That Was The Week That Was). The first pilot was filmed in late May, with a second pilot made on 31st May 1962 and the chosen host was Keith Fordyce. As the TV Times described it ''The big fight in the music world is between British discs and the American invaders. Now you can judge the state of the battle in this exciting programme which has the fun of a new game, plus the thrill of dazzling dancing, plus a first chance to hear the new record releases''.

Each record was visually supported by a team of dancers directed by Malcolm Clare. The British records were introduced by Oliver Reed (later replaced by Wally Whyton) and the American discs by Canadian David Gell. Keith Fordyce acted in the role of presenter and referee with Caterine Millinair as the International Jury Judge. No artists actually performed live on the show, but each week a guest star would appear to give their opinion on the new releases. There was also an audience participation section where excerpts from two records were played anonymously and the audience were asked to vote on either 'X' or 'Z'. The six records chosen each week would be played against each other by musical type, ballad vs ballad, jazz vs jazz etc. The show did not prove to be particularly popular and, according to reviews in the Daily Mirror, there were many viewer complaints. The Stage magazine's review of the first show commented 'the disc programme was not only ragged and under-rehearsed, but involved so many people that it was almost impossible to keep track of who-did-what-and-why'.



LET'S TWIST ON THE RIVIERA ASSOCIATED REDIFFUSION 20th June 1962 Please see specific pages on Sixties Dance Crazes
Rollo Gamble directed this 'follow up' programme with David Frost introducing another 'special' on 'The Twist' dance craze, this time from the trendy South of France.



TWIST! BBC Television 7th July 1962 - 11th August 1962
Six episodes of this 30 minute series, also known as TWIST! MUSIC WITH A BEAT were produced by Johnnie Spence and hosted by David Jacobs. It was launched as a summer filler show for late night Saturdays, attracting an unusually adult audience considering the dance's teenage origins. Each week two teams of twisters from popular BBC TV shows would compete for a trophy, judged by a different pair of celebrities each week. In addition, two or three singers would appear each week. Tony Osborne and His Mellowmen and Don Lang and his Twisters were the resident bands. An extract from the final show is thought to be all that exists from the series.

The Radio Times television listings state the following: Saturday 7th July 1962 BBC Television 22.45 - 23.15pm Twist! with David Jacobs and a host of friends. Music with a beat from Don Lang and his Twisters, Tony Osborne and the Mellowmen. Guests stars, Petula Clark and The Viscounts. Twist Competition: Compact v. Juke Box Jury Judges: Helene Cordet and Peter West. Saturday 14th July 22.50 - 23.20pm Guest stars, Eden Kane and The Brook Brothers. Twist Competition: Sid James team v. Denis Lotis team Judges: David Jacob and Louise Cordet. Saturday 21st July 22.50 - 23.20pm Guest stars, Helen Shapiro, Mike Sarne and Wendy, Sandra Scott Twist Competition: Z Cars v. The Archers (judges not listed). Saturday 28th July 22.30 - 23.00pm Guest stars, The Polka Dots, Kenny Lynch, Carol Deene. Twist Competition: Freddie Mills Team v. Raymond's Team Judges: Sonnie Binick and Sally Brock. Saturday 4th August 22.35 - 23.05pm Guest stars, Alma Cogan, Jimmy Justice, Ronald Chesney. Twist Competition: Television Announcers team v. Alan Week's Sports team (judges not listed). Saturday 11th August 22.40 - 23.10pm Guest Stars Ronnie Carroll, Susan Maughan, Mike Berry. Twist Competition: Singing Summers team v. Sing It Again team (judges not listed).



THE STORY OF TRAD ASSOCIATED REDIFFUSION 1st August 1962
A one-off show produced by Geoffrey Hughes which featured Stirling Moss investigating the history of Trad Jazz with the help of Kenny Ball, The Storeyville Jazzmen and George Melly.



THE CHUBBY CHECKER SHOW ATV 7th September 1962
A special featuring the 'King of Twist' Chubby Checker with guest stars The Brook Brothers and Valerie Masters, supported by the Red Price Orchestra. Producer was Dicky Leeman.



ADAM FAITH SINGS SONGS OLD AND NEW BBC 19th September 1962 - 24th October 1962
A six-episode series in which, according to the Radio Times, Adam 'sings old and new'. Supported by The Roulettes, The Kestrels, Sheila O'Neill (usually a dancer) and, on occasion, The Ross Taylor Dance Group, guests included Helen Shapiro, Chance Gordon, a 16 year-old Clodagh Rodgers, Betty Marsden, Chris Barber, Don Arroll, Dilys Watling, Julie Grant and Kenneth Connor. The series was produced by Graeme Muir and Ross Taylor. Johnny Keating was musical arranger BBC Orchestra directed by Harry Rabinowitz



THE MAX BYGRAVES SHOW THAMES 1963 - 1966 unknown transmission dates
"I wanna tell you a story . . " The ever-popular middle of the road entertainer with backing from the Jack Parnell orchestra. Max had many chart hits during the Fifties and Sixties but his best known recordings are probably the L.P. 'SingalongaMax' series and the wonderful 'Fings Ain't Wot They Used T'Be'. They're certainly (and sadly) not.



BIG NIGHT OUT ABC 1963 - 1964 unknown transmission dates
A series of variety shows presented by the comedy duo Mike and Bernie Winters. The shows frequently starred top pop artists as the headline act, who not only performed their hits but also took part in comedy sketches with the hosts. This series was followed by BLACKPOOL NIGHT OUT in 1964. Mike and Bernie went on to have their own long-running show on ABC/Thames, MIKE AND BERNIE'S SHOW, from 1966 to 1971.



THE DES O'CONNOR SHOW ATV 1963 - 1973 unknown transmission dates
Later considered almost a national institution and hard to believe it began this early, Des's long run of variety series were an annual event up to the middle of the seventies, when the show continued under
the name of DES O'CONNOR TONIGHT. Despite Eric Morecambe's opinion of his singing he had many high-ranking chart hits during and after the Sixties and his television career is one of the longest and most successful of all time.
Virtually everybody in the business appeared on at least one of these shows at some time or other.



NOW! LOOK! HERE! CHANNEL 1963 - 29th December 1965
Channel was the smallest of all the ITV franchises, yet it preserved its independence until 2017 when it was purchased by ITV. Their only real contribution to pop television history being this beat group entry. Hosted by John Rothwell the programme interviewed pop stars visiting the islands, many of whom would have played at ballrooms like The Springfield in Saint Hellier. From surviving footage made available by ITV on You Tube interviews were done on location, but there was a studio set with other interviewers and contributors, so it's likely that live performances were recorded for transmission. Despite the small locale the studio were having trouble getting fans to the studio on time, so in October 1964 the producers hired a bus to pick up fans and bring them along to the studio. Similarly, trains had been hired to take fans of Oh Boy! from the north of England down to London back in 1958.



THE 6-25 SHOW BBC 1st January 1963 - 24th December 1963
A show in which Jimmy Young presented new talent. The first show featured The Three Bachelors, The Belltones, The Eagles, The Honeys, Zack Laurence, Gay Pursue, Verne Rogers and the Hi-Fi's, The Sunrays and Cas Turewicz. The 16th April episode was The Beatles' debut on the BBC, giving them a nationwide audience for the first time, performing 3 songs. Also on this show were singers Rolf and Tino, Bobbi Carrol, Hank Locklin, guitarist Wout Steenhuis, a four-piece classical ensemble, pianist Johny Pearson and conductor Edwin Braben. The show was recorded at the BBC's Lime Grove Studios in Shepherd's Bush, West London.



WORLD IN ACTION GRANADA 7th January 1963 - 7th December 1998
Not generally known for its contribution to the world of Pop Music, a May 1964 episode was a serious documentary program on the 'pop pirates' of Radio Caroline and Radio Atlanta. It included rare location shots from the port at Greenore, the Atlanta recording studio and footage of the ships. Session musicians were used to overdub background music from the recording studio due to objections from the music regulating authorities.



MUSIC MATCH ANGLIA 9th January 1963 - 1965
The fore-runner to this long-running 30-minute music quiz was a short-lived show produced by Anglia in 1960 called DISC QUIZ. Peter Fenn, best remembered later as the organist in Anglia's biggest quiz, the 1970s Sale of the Century, provided the music for a 'name that tune' show where people were asked to name a song after only two notes. It started on 9th January 1963 at 9.45pm with hosts Pete Murray and Muriel Young. "Contestants will be able to win up to £100 in this quiz show". They had to guess the twenty tunes Peter Fenn played, often heavily disguised. That top prize was not won until 1964 (by an American airman's wife) yet in 1965 the top prize was still a mere £100. David Gell hosted the show from October 1965. Dick Graham was the unseen announcer. Guest artists appeared each week, including The Honeycombs (October 1965), Carol Deene (24th November 1965). The show was revived briefly in October 1970 to the end of the year with Pete Murray as host. Peter Joy, who produced the original version, was now back and introduced a cabaret spot in each show. Carol Dilworth and Jennifer Cresswell were Murray's assistants.



HERE COME THE GIRLS ASSOCIATED REDIFFUSION 27th February 1963 - 23rd October 1963
A 13-episode series that started 27th February, directed by Robert Fleming featuring Alan 'Fluff' Freeman talking to, and showing performances from, various female singing stars and groups. Amongst the "girls" featured on the show were Petula Clark (27th Sept 1963, 9.15pm), Alma Cogan, Billie Davis, Carol Deene, Aretha Franklin, Julie Grant, Kathy Kirby, Brenda Lee, Millicent Martin, Susan Maughan, Helen Shapiro, Dusty Springfield, and The Vernon Girls.



THE RAVE WAVE! ABC 4th May 1963, 29th June 1963 - 27th July 1963
Directed by Geopff Ramsey, the show was originally broadcast as a one-off, returning for an additonal four-show short series later the following month. It appears to have been a straightforward magazine programme about the fads and fashions of youth culture, with the TV Times describing it as "a new attempt to show viewers what's new. It's purpose is to dissect the trends, the fads, the fashions and the crazes that have either just materialised or are just about to come along". A later listing from the TV Times Northern edition states: David Mahlowe looks at the world of 'with it' people. Rave Fashions! Rave Dances! Rave Language! The 'in' side turned out. Designed by Patrick Downing. Edited by Roy Bottomley and Tom Brennard. It originally appeared in a late-night Saturday slot hosted by actor Tony Tanner and Sheila Falconer and was one of the first shows to take account of the new wave of youth music and fashion in the wake of Merseybeat and might have featured an article on The Cavern club in Liverpool.

It was re-named plain RAVE! in June and also seemed to have had a musical guest artist each week. The show's script writers were Mike Hodges (later to become a noted TV and film director with The Tyrant King, Get Carter, Flash Gordon, The Croupier) and Ken Hoare. A review in 'The Stage' magazine of 4th July 1963 states: 'This first show of '63 trends moved from the inevitable dance spot, Twist to Bossa Nova, with Sheila partnered by Johnny Greenland, to instruction on the care of aspidistras, a Jessie Matthews number Tony's In Town, a snatch of film of Divorce Italian Style, to Tom Swifties, and a visit to a Hot Gospel Club. Sandwiched somewhere in between was one incongruously serious item on acupuncture'.



THE CLIFF RICHARD SHOW BBC Sunday 28th April 1963
The first of Cliff's BBC 'specials', shown at 7:25pm and produced by Neville Wortman under the musical direction of Harry Rabinowitz. There was apparently a series of such specials planned for 1963, but only this one was actually filmed. The book 'The Complete Chronicle' describes this show stating that Cliff performed his latest single, Summer Holiday, and several tracks from the Holiday Carnival EP. Some sources also state that he sang Bachelor Boy. Guests included The Shadows, Millicent Martin and Sid James.



STARS AND GARTERS ASSOCIATED REDIFFUSION 31st May 1963 - 3rd January 1966
Tons of stars but far too few garters - this was an extremely popular traditional pub entertainment series featuring the more middle of the road chart artists among its guests. Hosted by Ray Martine, resident acts were Clinton Ford, Kathy Kirby, Tommy Bruce, Julie Rayne and Vince Hill. The show was re-titled 'THE NEW STARS AND GARTERS' for a few weeks in 1965 when it was introduced by actress Jill Browne assisted by William Rushton.



DAD, YOU'RE A SQUARE SOUTHERN 21st June 1963 - 13th May 1964
This was a show similar in concept to Juke Box Jury, described hopefully by Roy Rich as "a disc show with a difference". Hosted by DJ Barry Langford, a panel of six (three teenagers opposed by three 'square' adults) commented on a record, casting votes whether to 'buy' or 'break' the disc. If the latter vote was recorded, a machine instantly caused the unfortunate record to shatter by rolling a cannon ball into it. Directed by Angus Wright, the scheduled starting date was 13th June 1963, with the panel including 19 year old pop singer Garry Mills. However, a couple of test programmes were made before this. The first two series in 1963 were studio-based and networked to Tyne Tees, Border and Grampian. A third series in 1964 saw the show becoming an outside broadcast. The 26th February 1964 edition came from Salisbury, and featured Rosemary Squires. 29th April came from Petersfield Town Hall with Paddy Roberts (director Bill Perry) and on 6th May from Chatham Town Hall. A regular 'square' on the programme was Ken Chaplin who went on to manage pop group 'The Untamed'. Wendy Richards also appeared on the programme.



A SWINGIN' TIME BBC1 25th July 1963 - 2nd July 1964
There were 17 episodes of this musical variety show produced by Neville Wortman with musical direction by Les Reed. Season 1 (9 shows) ran from 25th July to 19th September 1963 and Season 2 (8 shows) ran from 14th May to
2nd July 1964. Rolf Harris presented, with guests that included Gerry and The Pacemakers, Stubby Kaye, Chris Rayburn, Shirley and Johnny, Cilla Black, Freddie and The Dreamers Singers and The Hendon School Folk Song Choir.



FOR TEENAGERS ONLY ATV MIDLANDS 8th August 1963 - 1st October 1964
A pilot show called UP AND DOING made in June 1963 led to this 20 minute programme series produced by Reg Watson and broadcast on Thursdays at 6.40pm. Resident band was Steve Brett and The Mavericks. Made at the Alpha studios in Aston, Birmingham, it featured many established stars and also showcased local West Midlands talent. The show was also networked to Southern Television.



READY STEADY GO! ASSOCIATED REDIFFUSION 9th August 1963 - 23rd December 1966 Please see specific page on Ready Steady Go!



THE FRANK IFIELD SHOW ATV 1st September 1963
A collection of general entertainment series and 'specials' were made by ATV under the 'The xxx xxx Show' This particular one starring the highly popular 'Australian' singer (he was actually born in Coventry) and special guests. The show was produced by Albert Locke and broadcast live from the Prince of Wales Theatre, London.



THIS AND THAT ULSTER 25th September 1963 - 17th December 1963
This 13-week series was Roger Whittaker's first television series and the first local Ulster programme sold to the ITV network.



HULLABALOO ABC 28th September 1963 - 4th January 1964


Hosted by Rory McEwen, with other 'assistant' presenters such as Martin Carthy, Iain Campbell, Cyril Tawney, Davey Graham, and Alex McEwan, Hullabaloo was a weekly half-hour ABC TV folk and R&B showcase, recorded at ABC's Teddington Lock studios, that ran for 11 shows. The series was broadcast late night, 11:15pm, Saturdays to the North of England only and featured British and American folk and blues artists. Along with regular band The Cyril Davies All Stars, guests included Long John Baldry, Peter, Paul and Mary, The Spinners, The Velvettes, Sonny Boy Williamson, Ramblin' Jack Elliott and Carolyn Hester. A live edition of the show was presented at the Royal Festival Hall, featuring Rory McEwen, Isla Cameron, The Ian Campbell Folk Group, Bob Davenport, Martin Carthy, Lisa Turner and The Malcolm Price Trio. Directed by Ben Churchill, ABC sold the series to both America and Australia.



THE MERSEY SOUND BBC1 9th October 1963


A 30-minute documentary, produced by Jim Casy and narrated by Michael Barton, about the early 60s Liverpool scene and pop phenomenon which includes a Beatles interview and a privately-recorded session on which the audience sounds were later over-dubbed as it was not possible to record live audio due to crowd noise. The production includes interviews with club owners and footage from inside the Iron Door Club - a Cavern 'rival'. Also appearing are The Undertakers and Group One.



LATE SCENE / LATE SCENE EXTRA GRANADA 18th October 1963 - 20th March 1964



Produced by Granada in Manchester, SCENE AT 6.30 (1963 - 1966) was a regional magazine programme for the North of England that always started at 6.35pm. Although mostly a current affairs show, it incorporated a segment called Police File (copied from ATV's Police Five) and also featured entertainment guests every night of the week where it was often able to get established and new bands into the studio before their record had hit the charts, including The Beatles. Presenters included Gay Byrne, Mike Scott, Peter Eckersley, James Murray, Brian Truman, Bill Grundy, Michael Parkinson, Bob Greaves and Chris Kelly. An additional late night show lasting about 30 minutes was broadcast around 11.30pm hosted by Bill Grundy and Michael Scott, produced by Johnny Hamp and Michael Parkinson, which featured many of the big current names in the music business, was titled LATE SCENE and LATE SCENE EXTRA. Friday 20th December 1963 brought an additional edition, shown at 11.25pm to 11.55pm, under the title LATE SCENE GRANADA. 27th November 1963saw an extra late episode at 11.45pm featuring Ken Dodd and The Beatles, interviewed by Gay Byrne.



MOVE OVER DAD WESTWARD 19th October 1963 - 21st December 1963
The Beatles had to be smuggled into Derry's Cross through a tunnel to record a 6'41" interview with continuity announcer Stuart Hutchison for the programme, due to the number of fans outside the studios.



THEY'VE SOLD A MILLION ASSOCIATED REDIFFUSION 30th October 1963 - 10th February 1965
Each program in this 15-2- minute part-music part-documentary late night series featured a pop star or group who had sold a million or more records, including: 30th October 1963 Alan Freeman talking to Gerry and The Pacemakers, 15th April 1964 Gordon Williams talking to Freddie and The Dreamers, 10th February 1965 Alan Freeman talking to Cilla Black. An edition with singer Joe Brown was due to be shown on 20th November 1963, but due to the inclusion of his recording of 'Little Ukulele', a song which was banned by both the BBC and ITV, it was cancelled and replaced by Kenny Ball on Tuesday 24th December 1963 11:10 - 11:25 pm.
15-20 minute programme



THE ABC OF JAZZ SOUTHERN 5th November 1963 - 28th January 1964
Seen on Tuesdays, this thirteen week series, produced by Peter Frazer-Jones, saw host Steve Race taking the alphabet, two letters per week, showcasing personalities of the jazz world.



IT'S THE BEATLES BBC1 7th December 1963
A live performance televised from the Empire Theatre, Liverpool as the second half of a two-part show, containing 10 of their hits and live 'standards'.
The first half of the show featured the Fab Four as the panelists in a special edition of Juke Box Jury.



I HEAR THE BLUES GRANADA 18th December 1963
A 38-minute 'blues' special, featuring Muddy Waters, Memphis Slim, Willie Dixon, Matt Murphy, Sonny Boy Williamson, Lonnie Johnson, Victoria Spivey and Big Joe Williams. A DVD recording of this show was released on the Shout! Factory label on April 26th 2005.



LUCKY STARS ON MERSEYSIDE 'SPECIAL' ABC 21st December 1963 Please see specific page on Thank Your Lucky Stars
A special edition of the 'Thank Your Lucky Stars' programme which featured The Beatles and other Liverpool acts.



BEAT CITY ASSOCIATED REDIFFUSION 24th December 1963
First broadcast at 9.10pm on Christmas Eve 1963, this was a documentary directed by Charles Squires and presented by Daniel Farson, examining the phenomenon of Merseybeat, with contributions from Gerry and The Pacemakers, Rory Storm and The Hurricanes, Faron's Flamingos, Earl Preston & The T.T.'s, The Chants, Chick Graham backed by The Coasters, The Spinners, Jacqueline McDonald, Bridie O'Donnell, Billy Kielty, Paul Cunningham and other Liverpool groups including The Undertakers. Farson journeys from London to Liverpool to discover why this 'hard-drinking, hard-fighting' north-western area has become the epicentre of the 1960s music scene. His brief tour takes in all the Merseybeat landmarks, including The Blue Angel, The Jacaranda and the Cavern club where youths twist and shout to the likes of Gerry and The Pacemakers and Rory Storm and The Hurricanes. It features close-up shots of the musicians and crowd by cameramen Ron Osborn and Peter Povey.



CHRISTMAS SWINGTIME ASSOCIATED REDIFFUSION 25th December 1963
Broadcast on Christmas Day 1963 this was a selection of music for Christmas Day performed by Cliff Richard, The Shadows, Edmund Hockridge, Joan Regan, The King Brothers, Kenny Baker, Tommy Whittle and Don Lusher.



LUCKY STARS SUMMER SPIN ABC 1964 - 1965 Please see specific page on Thank Your Lucky Stars
In addition to the Winter scheduling, a Summer season version of 'Thank Your Lucky Stars' was introduced in 1964 from the Teddington Studios which kept more or less to the same format and featured Billy Fury as a regular guest performer.
The 'Spin-A-Disc' segment was replaced in July 1964 during the Summer Spin months by 'The Pop Shop' with Janice Nicholls becoming the DJ/counter Assistant. Talking to TV Times about the summer replacement show Philip Jones said "This is a pop show featuring big name stars, so it's a natural step to use stars as comperes. Different stars will act as host each week, both boys and girls". Talking about the 'Pop Shop' segment, Jones said "The idea is this: We'll have about twenty youngsters in the studio, listening and dancing to the week's American discs. When we've played the quota - it might be three or four - they will go to the counter of our Pop Shop, where they can pick their favourite of the releases played".

After the show's Summer Spin outing the regular show returned on 3rd October 1964, but it was announced that the Pop Shop item would be dropped in favour of "a show within a show" feature, meaning Janice Nicholls would have to find new employment. However, it would return a few weeks later with Janice back in her rightful place. A new look was introduced for the 27th March 1965 show, with the theatre style stage and facing audience disappearing, replaced by a floor stage with the audience sitting in rows around them. Brian Matthew was replaced by Jim Dale for the summer series in 1965. The summer version of the show went on location, with the ambition to record two numbers outdoors for each show. Talking to The Stage's 'Television Today' section an ABC source claimed "before every summer season we have discussed whether to rest Lucky Stars but in the past we have decided to continue the show - usually under the title of 'Lucky Stars Summer Spin'. This year we came to the conclusion that we should drop it at last and start afresh. The pop music scene has changed so much recently that we felt it was better to do this than alter the format of Lucky Stars yet again".



DON'T KNOCK THE ROCK GRANADA 1964
This was a Compilation of material from two Granada music specials from 1964, IT'S LITTLE RICHARD and WHOLE LOTTA SHAKIN' GOIN' ON with Jerry Lee Lewis, Little Richard, Gene Vincent, Sounds Incorporated, The Shirelles, The Animals, the Nashville Teens etc.



IT'S BEAT TIME BBC2 1964
The Oxfam National Beat Group Competition finals at The Prince of Wales Theatre in London featured 12 'unknown' bands in a contest decided by a panel of judges. It was hosted by Don Moss with David Jacobs chairing a jury that included Beatle Ringo Starr, Brian Epstein, Cilla Black and Alan Freeman. The second half of the show was broadcast live from 9:45 to 10:35.



TOP OF THE POPS BBC1 1st January 1964 - 30th July 2006 Please see specific page on Top Of The Pops



THE HOOT'NANNY SHOW BBC1 6th January 1964 - 15th June 1964
This 25-minute show was broadcast on Mondays at about 6:35pm after the news and regional programmes. Recorded in Edinburgh, the series appeared to be set in a folk club. 22 episodes were broadcast, featurung guests which included .
The Corrie Folk Trio and Paddie Bell, The Dubliners, Julie Felix and The Spinners, along with regulars Archie Fisher, Ray Fisher and Nadia Cattouse. Director: David Bell, Producers: W. Gordon Smith and Travers Thorneloe.



IT'S LITTLE RICHARD GRANADA 8th January 1964
Produced by Johnny Hamp and directed by Philip Casson. A TV movie featuring Little Richard with The Shirelles and Sounds Incorporated.



YEAH! YEAH! YEAH! GRANADA 12th February 1964
Producer: Dick Fontaine. A 74 minute documentary film made for television by Albert and David Maysles about The Beatles U.S. Tour, especially the hysterical fans at the airport.
Also known as WHAT'S HAPPENING! THE BEATLES IN THE U.S.A. and NEW YORK MEETS THE BEATLES.



THREE GO ROUND SOUTHERN 19th February 1964 - 20th January 1966
Two series were made of this 30-minute show which was seen on Wednesdays at 5:25pm, also being seen on Anglia, TWW, Channel and STV. It began as a children's / young teenage 'magazine' programme, initially including a children's pop competition for the first few weeks where viewers were invited to write a pop song, the best of which would be submitted to record companies. This part of the show was hosted by hit songwriter Mitch Murray, who explained how to write a lyric, then in week two, how to compose a tune. On 18th March 1964, the best entry was announced and played by a group. The series marked the television debut of Fred Dinenage. presenting with Jane Sinclair and Britt Allcroft. Later presenters included Carol Binstead, who went on to be an interviewer on "A Whole Scene Going" and Tony Bastable who went on to co-present 'Magpie'. The series were directed by Angus Wright.



ONE NIGHT STAND STV 27th February 1964 - 27th May 1964


Typical of the regional pop shows that sprouted in the wake of Merseybeat, this one covered beat talent from Scotland. Three amateur or semi-pro bands would play each week, with a professional band, usually from England in support. Pete Murray hosted the show which was produced by Liam Hood and directed by Jack Sampson. Auditions across the country were held to find thirty groups for the series, with each band allocated six minutes. Producer Liam Hood explained "It will be a useful experience for the Scots boys appearing with professional groups, who have been at the game longer than they have" and the show discovered some real talent with Lulu and The Luvvers among the acts on the first show. The Gaylords would evolve into The Marmalade while Peter's Faces would cut several sought after 45rpms. 14 episodes were recorded in Studio A at the Theatre Royal before an audience of 600. The Original Checkmates also joined each show.
Starting at 9:40pm on Thursdays, the show moved to 6:30pm slot on 18th March. It was a prelude to the longer series DIG THIS which began in July.

Some of the artists appearing were: Thursday 27/02/64 9:40pm to 10:10pm: Tommy Dene and the Tremors, The 'A'Beats, Lulu and the Luvvers, The Original Checkmates. Thursday 05/03/64 9:40pm to 10:10pm: The Seven Sinners Showband, Beat Unlimited, The Golden Crusaders, The Zephyrs. Thursday 12/03/64 9:40pm to 10:10pm: The Copycatz, Tommy Trousdale and his Sundowners, Dave Berry and the Cruisers. Wednesday 18/03/64 6:30pm to 7pm: Dean Ford and the Gaylords, The Falcons, The Crusaders, The Rockin' Berries. Wednesday 25/03/64 6:30pm to 7pm: The Johnny Hudson Hi-Four, The Silhouettes, The Athenians, Wayne Gibson and the Dynamic Sounds. Wednesday 01/04/64 6:30pm to 7pm: The Ramblers Showband, The Strangers, Helene and the Kinsmen, The Contrasts. Wednesday 08/04/64 6:30pm to 7pm: Mark Dayton and the Honours, Phil and the Flintstones, The Red Hawks The Big Three. Wednesday 15/04/64 6:30pm to 7pm: The Kwintones, The Bluenotes, The Meteors, Rob Storme and the Whispers. Wednesday 22/04/64 6:30p to 7pm: The Phantoms, The Swinging Blue Jeans. Wednesday 29/04/64 6:30pm to 7pm: The Erle Blue Stars, Sol Byron and the Impacts, The Original Soundtracks, The Gamblers. Wednesday 06/05/64 STV 6:30pm to 7pm: Johnny Campbell and the Clansmen, The Aberdeen Phantoms, The Hawkes, The Trends. Wednesday 13/05/64 6:30pm to 7pm: Scotlands Dynamic Hornets, The Kimbos, The Ravens, Sandra and the Jet Blacks. Wednesday 20/05/64 6:30pm to 7pm: The Nighthawks, The P.G.Flintstones, Tony Rivers and the Castaways. Wednesday 27/05/64 6:30pm to 7pm: The Ardennes, Tommy and the Apaches, The VIPs, Peters Faces.
.
Note: ASSOCIATED REDIFFUSION was re-named REDIFFUSION LONDON from 6th April 1964



RAVE MAD MOD BALL REDIFFUSION Wednesday 8th April 1964
The thirty-sixth episode of season one of READY STEADY GO was a special featuring the carity event 'Rave Mad Mod Ball' in a 30 minute show broadcast from the Empire Pool Wembley. The Beatles, who that week attained the top five records in the U.S., did not appear but there were performances from The Merseybeats, Billy J. Kramer and the Dakotas, Freddie and the Dreamers, Cilla Black, The Searchers, The Fourmost, Manfred Mann, Kathy Kirby, The Rolling Stones, Kenny Lynch and Sounds Incorporated. Presenters were Keith Fordyce, Cathy McGowan, Michael Aldred and dancer Patrick Kerr.



JAZZ 625 BBC2 25th April 1964 - 20th October 1966
Produced by Terry Henebery and introduced by Steve Race (later, Humphrey Lyttelton) each program featured a particular aspect of Jazz, starring such artists as Dizzy Gillespie, Duke Ellington, Henry 'Red' Allen, Oscar Peterson, Dave Brubeck, Errol Garner, Woody Herman, Tubby Hayes and Chris Barber. The title, of course, related to the fact that BBC2 was now broadcasting on 625 lines, producing a much improved picture quality.



OPEN HOUSE BBC2 25th April 1964 - 5th December 1964
This 2-hour Saturday afternoon programme was transmitted from the London Riverside Studios at 4pm and was a mix of fashion, film, current technology and music. It was hosted by Gay Byrne, assisted by Peter Haigh and Victor Brooks, produced by Stewart Morris, and was provided as an alternative to the sport being shown on BBC1. Musical direction was by Tony Osborne. The music content was provided by stars such as Gene Pitney, The Supremes, The Beach Boys. Winifred Atwell, Barry Barnett, Catherine Boyle, The Hungarica Quartet, Al Koran, Millicent Martin, Les Quatre Barbus, The Searchers, Adam Faith, The Rolling Stones and Brian Poole and The Tremeloes with Tony Osborne and his Orchestra providing the studio music and some backing.



TOP BEAT BBC2 27th April 1964 - 9th December 1964
This title seems to have covered a wide-spread series of four 45-minute excerpts from pop concerts filmed at the Royal Albert Hall, London, each featuring 8 or 9 top groups and artists, directed by Brian Johnson and produced by Robin Scott. Transmitted on 27th April, 25th May, 11th November and 9th December, comperes were Jimmy Savile and Alan Freeman. The early part of the 27th April concert was also broadcast on the BBC Radio Light Programme.
The 25th May concert was billed as TOP BEAT POP PROM and featured Kenny Ball and his Jazzmen, Freddie and The Dreamers, The Hollies, Eden Kane and The Downbeats, Billy J. Kramer and The Dakotas, Bob Miller and his Millermen, Dusty Springfield and Brian Poole and The Tremeloes. The 11th November show was described as 'the first of a monthly series of star-studded public shows' but although provisional bookings at the Albert Hall were made for further concerts in 1965, the Record Mirror noted that 'concerts scheduled for 4th January, 1st February, 8th March and 5th April 5 have been scrapped', apparently due to low attendances.



BIG BEAT '64 ABC 3rd May 1964 - 10th May 1964
Director: Mark Stuart. This NME poll-winners concert was filmed at the Empire Pool, Wembley, and introduced by David Jacobs and Jimmy Savile. Shown in 2 parts, it featured performances from The Beatles, Joe Brown and The Bruvvers, The Dave Clark Five, Freddie and The Dreamers, Gerry and The Pacemakers, The Hollies, Big Dee Irwin, Kathy Kirby, Billy J.Kramer and The Dakotas, Joe Loss, Manfred Mann, The Merseybeats, Brian Poole and The Tremeloes, Cliff Richard, The Shadows, The Rolling Stones and The Swinging Blue Jeans.



AROUND THE BEATLES REDIFFUSION 6th May 1964 Please see specific page on Around The Beatles
Taped before a studio audience Tuesday 28th April 1964, this was a Beatles 'special' produced by Jack Good which featured 6 full songs and a medley of 5 other hits. They also took part in a parody of part of a Shakespeare play in which Paul played Pyramus, George played Moonshine, John was Lady Thisbe and Ringo was The Lion. The 60 minute production was repeated, in a slightly edited form, on Monday 8th June (6:08pm - 7:00 pm). Although it gave the appearance of a live perfomance, they were miming to a pre-taped soundtrack recorded at the IBC recording studio In London on Sunday 19th April. The songs were: complete versions of Twist & Shout, Roll Over Beethoven, I Wanna Be Your Man, Long Tall Sall and Can't Buy Me Love. They also performed a medley of the following tunes: Love Me Do, Please Please Me, From Me To You, She Loves You, and I Want To Hold Your Hand, finishing with a version of Shout.



THE COOL SPOT BBC 7th July 1964 - 1st September 1964
One of the stranger shows to be screened, this early evening offering was a derivation of a series called HOT ICE (1961 - 1963) in which professional skaters performed to contemporary pop records. This show came from the Nottingham Ice Stadium and was normally hosted by Alan Weeks. The final series was hosted by David Jacobs who also hosted the nine editions of THE COOL SPOT in which pop artists performed, with varying degrees of skill, on the ice itself with the skaters. Artists appearing included Lulu, Kenny Ball, Kiki Dee, The Migil 5, The Yardbirds, Dave Berry, Peter Jay and The Jaywalkers, Christine Holmes and The Spencer Davis Group. The programme's equally bizarre strapline was 'Television's new Ice-Discery' where you can 'Skate, Shake or Just Listen'.



MAINLY MILLICENT ITV 12th June 1964 - 29th June 1966
Made at ATV's Elstree studios, a 3 season, 19 episode song and dance series which also contained some comedy sketches, starring Millicent Martin which won her the Light Entertainment Personality of the Year award. The first show of the second series, shown on Saturdays at 8:35pm, was chosen by ITV as its entrant for the 1965 Golden Rose of Montreux competition. The third series (6 episodes starting 25th May 1966) was merely titled MILLICENT. Roy Castle made several appearances on the show, leading to Rediffusion making a 1966 60-minute special in the same format titled MILLICENT AND ROY. Other guests during the series were Roger Moore, Ron Moody, Kenneth Cope, Ronnie Carroll, Denis King, Michael Standing, Dickie Henderson, Bernard Cribbins, Leslie Crawford, Henry McGee and Bill Fraser.

BEATLES ON TOUR GRANADA 23rd June 1964
Dick Fontaine produced this latest documentary on The Beatles, introduced by Bill Grundy, looking at their life on the road.



DISCWIZZ SOUTHERN 24th June 1964 - 22nd September 1964
The single series of the programme commenced on Wednesday 24th June 1964, compered by Muriel Young and Tony Hall and produced by Mike Mansfield. Questions were put to a panel of two teams, made up of three girls versus three boys, all aged between 15 and 25. Questions ranged from artists and composers to pop songs. The teams changed each week, the prize... some LP records.



THE BEAT ROOM BBC2 6th July 1964 - 25th January 1965
Produced by Barry Langford and hosted by Pat Campbell, the show first aired on 6th July and was originally billed as '25 minutes non-stop beat and shake' which was later extended to half an hour. The format was the standard regular guests and new releases, and the resident dancers were The Beat Girls. It leaned quite heavily towards R&B music and included artists such as Sonny Boy Williamson, John Lee Hooker, Little Walter, Chris Farlowe and Long John Baldry.



THE WESTWARD BEAT COMPETITION FINAL WESTWARD 9th July 1964
After a series of shows featured in 5 minute slots introduced by Russell Turner) introducing each of the contenders, the 60 minute competition final was transmitted on Thursday 9th July 1964 (7:00pm - 8:00pm), compered by Alan Freeman.
A panel of judges included Brian Epstein, Craig Douglas and Russell Turner and was won by The Rustiks. The finalists were: Chet and The Triumphs, The Rustiks, The Devonairs, The Barracudas, The Big Four and The Iveys.



DIG THIS STV 10th July 1964 - December 11th 1964
Carrying the name of a 1959 BBC show, and following on in a similar vein to ONE NIGHT STAND, this series of 23 shows was also hosted by Pete Murray and featured Scottish groups alongside British chart acts.. Artists appearing were: July 10th 6.30pm: The McKinleys, The Leroys. July 24th 6.30pm: The Vernons, Andy Gray, The Golden Crusaders. August 7th 6.30pm: The Mojos, The Copycats. August 14th 6.30pm: The Four Pennies. August 21st 7.00pm: The Federals, The Meteors. August 28th 7.00pm: Peter's Faces, Dean Ford, The Gaylords, Dick James. September 4th 7.00pm: The Trendsetters. September 11th 7.00pm: Big Dee Irwin, The Golden Crusaders. September 18th 6.30pm: Lorne Gibson, The Zombies. September 25th 6.30pm: Alex Harvey's Soul Band, The Trends. October 2nd 6.30pm: Lulu, Barry St John. October 9th 6.30pm: The Merseybeats, The Poets. October 16th 6.30pm: The Pretty Things, Vince Martin, The Kimbos. October 23rd 6.30pm: The Kinks, Jay Anders, The Chevelons. October 30th 6.30pm: The Long and The Short, The Monarchs. November 6th 6.30pm: Kenny and The Wranglers. November 13th 6.30pm: The Downliners. November 20th 6.30pm: The Cherokees, The Athenians. November 27th 6.30pm: Lulu, The Dakotas. December 4th 6.30pm: Sounds Incorporated, The Mark Five. December 11th 6.30pm: Cliff Bennett and The Rebel Rousers.



CLIFF AND THE SHADOWS ATV 15th July 1964
ATV made a one-off special with support from Jack Parnell and His Orchestra, The Mike Sammes Singers and The Pamela Devis Dancers. Running about 40 minutes, it was transmitted on a Wednesday and primarily promoted the Wonderful Life film with the Cliff singing many songs from the film as showing some actual film clips. It is also mistakenly known as The Hank Marvin Story due to a running joke throughout the show in which Hank Marvin continually tries to steal the spotlight and calls the show by that name. This show was also the first UK television appearance for Liza Minnelli. Pre-recorded on 30th June, it was originally scheduled for broadcast on 1st July, the night before the Wonderful Life world premiere, but a technician's strike caused the network's programming to be cancelled on that evening and it was rescheduled for 15th July.



BLACKPOOL NIGHT OUT ABC 19th July 1964
A one-off spectacular Summer season edition of Mike and Bernie Winters' 'Big Night Out' show featuring special guest stars The Beatles.



A DREAM SINGING REDIFFUSION 22nd July 1964
Directed by Robert Fleming, this one-off special starred Adam Faith and Australian singer Patsy Ann Noble, featuring songs with the theme of 'dreams'.



THE ROY ORBISON SHOW ATV 5th August 1964
A special from the legendary Big 'O', produced by Albert Locke, with guests Julie Rogers and Daniel Remy. It also featured the Pamela Davis dancers with musical backing by the Jack Parnell orchestra. The American star agreed a £10,000 contract with ITV for two shows.



CALL IN ON . . . ATV 7th August 1964 - 15th December 1965
20 × 30 minute episodes from 7th August 1964 to 15th December 1965, this was a collection of mini-series and variety 'specials' under a general heading featuring a top singer as the main artist with weekly or specially invited guest stars including Alma Cogan, Susan Maughan and The Seekers. They were produced by Victor Rudolf and Albert Locke and the music was provided by The Jack Parnell Orchestra conducted by Alan Braden.
CALL IN ON WYNTER - Mark Wynter series (6 editions - 6th, 7th and 13th October 1964 and 28th July, 10th November and 15th December 1965).
CALL IN ON VALENTINE - Dickie Valentine series (3 editions - 20th January, 3rd February and 6th April 1965)
CALL IN ON TOM - A Tom Jones special
CALL IN ON CARROLL - Ronnie Carroll series (10 editions: 7th August – 30th September 1964). This led to a 1965 spin-off series for Ronnie Carroll, also produced by Albert Locke, with the rather unoriginal title of
CARROLL CALLING



TONIGHT IN PERSON BBC2 13th August 1964 - 29th November 1967
There may have been two shows under this title in 1963 - The Limelighters and Nana Mouskouri 30th January 1963 and Nina and Frederik 17th December 1963 but the series is generally accepted to have started with the two-part Pete Seeger performance in 1964, advertised by the Radio Times as 'A new series of weekly programmes presenting folk music from many parts of the world'. The annual sets of series featured concert performances in front of audiences from many international stars including Pete Seeger, Julie Felix, Joan Baez, Peter, Paul and Mary, Buffy Saint-Marie, Judy Collins, Esther and Abi Ofarim, The Seekers and Tom Paxton among others. The shows had many producers and directors.



THE MAN THEY CALL GENIUS REDIFFUSION 26th August 1964
A special on the inimitable Ray Charles, recorded on 20th July, with many famous guests from the world of pop in the studio audience.



THE LATE SHOW BBC2 12th September 1964 - 14th December 1972
This began as a 10 minute prologue to the evening's viewing but by the end of its first year had been extended and placed at the end of the evening schedule as a live late night arts discussion programme in its own right. There were various arts elements in the show, one of which was given over to current music and named LATE NIGHT LINE-UP. The show ran for six or seven nights a week, a total of over 3000 shows, with its own music slot, dealing mainly with folk, jazz and progressive rock and is noted here for being the parent program of COLOUR ME POP (see 1968). Presenters included Joan Bakewell, Dennis Tuohy, John Stone, Michael Dean, Nicholas Tresilian, Sheridan Morley and Tony Bilbow.



SHINDIG! American ABC 16th September 1964
'What's that doing in here?' I hear you cry. Well… Shindig! (ABC) and Hullabaloo (NBC) were two Sixties American 'live' pop television shows, both Jack Good-produced, each lasting about eighteen months and showcasing a lot of British groups. Shindig started as a half hour show but was increased to an hour in January 1965. Brian Epstein introduced the acts on a few of the first NBC shows which started in January 1965. On occasion the shows were televised live from London and the first Shindig! show on September 16th 1964 was actually an episode of READY STEADY GO! with the titles altered for the American market. Videos of these classic shows are available to buy on the internet.



POP SCENE ULSTER 28th September 1964 - 23rd December 1964
A short-lived, five nights a week presentation aired from September to December that featured Irish show bands twice weekly. This was a follow-on from a 1963 pop programme attempt by Ulster called NOW HEAR THIS.



WHOLE LOTTA SHAKIN' GOIN' ON GRANADA 30th September 1964
Jerry Lee Lewis gave an unrehearsed performance in Granada's Studio 6, with The Animals and Gene Vincent. Apparently, the audience were so hyped-up by Jerry Lee that the camera crews had to fight to get any footage at all.
Director: Philip Casson, Producer: Johnny Hamp.



POP SPOT ABC 3rd October 1964 - 13th March 1965
A ten minute late-night 'filler' show, directed by Geoff Ramsey and produced by Mark Stuart (which accounts for its similar appearance to TYLS), that highlighted one act per week, performing usually four of their own favourite songs in the ABC Television studios.. Many chart regulars like The Migil Five, Manfred Mann, The Honeycombs, The Bachelors, Gerry and The Pacemakers, Brian Poole and The Tremeloes, The Fourmost, The Dave Clark Five, Adam Faith and The Roulettes, Kenny Lynch, Dusty Springfield, The Merseybeats and The Searchers made appearances.



THE EAMONN ANDREWS SHOW ABC / THAMES 4th October 1964 - 3rd April 1969


Although essentially a late night, live, 45-minute variety and chat show, the 179 episodes over 5 series contained so many pop and music guests, many on several occasions, that it is worth a mention here. Guests on multiple episodes included Sandie Shaw, Cilla Black, The Bachelors, Manfred Mann, Dusty Springfield, Kathy Kirby, Adam Faith, Marianne Faithfull, The Rolling Stones, Jackie Trent, Petula Clark, Brenda Lee, Paul Anka, Gerryand The Pacemakers, Gene Pitney, The Searchers, Dionne Warwick, Joe Brown, Anita Harris, Bing Crosby, Georgie Fame and The Blue Flames, Tom Jones, Lulu, Engelbert Humperdinck, Acker Bilk, Herman's Hermits and many others. Bob Sharples, who wrote the theme tune 'Late Night Special' directed the music for all the shows. There were many directors, possibly the most notable being Neville Wortman.



THE KATHY KIRBY SHOW BBC1 16th October 1964 - 12th February 1966
After making a couple of one-off shows for the BBC, Kathy began a 10-show first series, later followed by an 8-show second series, appearing roughly fortnightly, from October 1964, with a summer break. On a special show on 29th January 1965, KATHY KIRBY SINGS A SONG FOR EUROPE, Kathy sang the six U.K. hopefuls for the Eurovision Song Contest : I'll Try Not To Cry, Sometimes, My Only Love, I Won't Let You, One Day, and the eventual Eurovision entry, I Belong. The first series ended on 12th March 1965 and the second began on 28th August 1965, this time being seen about every 3 weeks. Both series were produced by Ernest Maxin with musical direction by Eric Robinson, supported by The George Mitchell Singers. Dancer Peter Gordeno also appeared in most episodes. These shows made Kathy one of the highest-paid TV performers of the time at £1000 a show. Prior to this series Kathy made two 'specials' on 3rd May and 4th August for the BBC. The first four shows of the series were recorded and the remainder transmitted live. Maxin said "Kathy has tremendous potential. In preperation for the show she has been working twelve hours a day learning dancing and the finer points of comedy, and I believe it will prove her a top-rank all-round entertainer". The show was a mixture of song, dance, comedic sketches and special guest stars, a format that was successfully copied in subsequent shows for Cilla Black, Lulu and Dusty Springfield. This was the first of three television series she made for BBC television.



THE BILLY FURY SHOW ATV 4th November 1964
A special, produced by Colin Clews for Billy, the rock'n'roller turned ballad king, who never achieved the chart topping success his talent deserved. Supported by Jack Parnell's orchestra and the Ross Taylor Dancers.



THE GIRLS IN MY LIFE REDIFFUSION 18th November 1964
Director: Robert Fleming. Adam Faith, interviewed by Ronan O'Casey, looked back at the girls in his life through conversation and song.



THE GLAD RAG BALL REDIFFUSION 25th November 1964
A charity fancy dress event recorded at the Empire Pool, Wembley, on 20th November and introduced by Jimmy Savile and Anne Nightingale. Acts included The Animals, Long John Baldry, Susan Maughan and The Rolling Stones.



LUCKY STARS 'SPECIAL' ABC 5th December 1964
A special edition of the programme recorded on 29th November which featured The Rolling Stones performing 'Around and Around', 'Little Red Rooster', 'Off The Hook' and 'Empty Heart'.



THAT'S FOR ME REDIFFUSION 21st December 1964 - 29th March 1965
Directed by Peter Croft, this was an early evening chat and music show, presented by Anne Nightingale and Daniel Farson which was transmitted on Mondays from 6:08-7pm. Guests included: 21.12.64: Judi Johnson, Bruce Forsyth, Georgie Fame. 04.01.65: Garry Miller, Julie Rogers, Joan Regan. 11.01.65: Twinkle, Stubby Kaye, Harry Fowler. 18.01.65: Mark Murphy, Julie Felix, Harry Fowler, Elkie Brooks. 25.01.65: Johnnie Kennedy, Jessie Matthews, Harry Fowler. 01.02.65: The Baker Twins, Kenny Lynch, Alfie Bass, Helen Shapiro. 08.02.65: Dilys Watling, The Bel Cantos, Alfie Bass, The Marionettes. 15.02.65: Tom Jones, Billie Davis, Alfie Bass, The Ivy League, Adam Faith, Tommy Bruce, Tsai Chin. 22.02.65: Hutch, Harry Fowler, Lulu, Cleo Laine. 01.03.65: Julie Grant, Keeley Smith, Roddy Maude-Roxby, Joe Brown and The Bruvvers. 08.03.65: Peter Watson, Clive Dunn, Jonathan Bennetts, Jackie Lee. 15.03.65: June Bronhill, Dave Allen, Noel Harrison, Dorothy Mazuka. 22.03.65: Lynn Holland, Randolph Sutton, Sydney Tafler, Ron and Mel. 29.03.65: Dakota Station, Salena Jones, Freddie and The Dreamers, The Freewheelers.



LADYBIRDS SOUTHERN 31st December 1964 - 12th September 1965
This Mike Mansfield series ran for 13 shows over 2 seasons from 31st December 1964 to 12th September 1965. Top girl singers sang and were interviewed by Shaw Taylor and Terence Carroll. Guests included Annie Ross, Julie Rogers, Petula Clark, Cilla Black, Alma Cogan, Francoise Hardy, Julie Rogers, Sandie Shaw, Dusty Springfield, Dakota Staton, Jackie Trent, Dana Valery and Dionne Warwick. Most of the shows were filmed on location such as Francoise Hardy and Petula Clark in Paris, Dakota Staton sightseeing in London and Dusty Springfield in a series of one-night shows around the UK. The show was also transmitted by Anglia and TWW at a later date, after the Southern show finished. The format was re-used by producers Mike Mansfield, Hilary Stewart and Muriel Young for a further 2 series in 1983 - 1984.