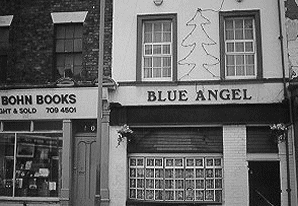 Personally, my favourite Liverpool club was the Blue Angel. I remember sitting with Allan Ginsberg, who described his excitement at being in Liverpool.
The combination of its energy and the personality of its people inspired him. The club was swarming with members and visitors. Apart from Liverpool artists such as The Beatles and Gerry & The Pacemakers, there were representatives of the media, ranging from the Saturday Evening Post to Man About Town, a TV team, a German film crew and leading journalists such as Nancy Spain, George Melly and Derek Taylor.

No wonder Ginsberg was to say: "Liverpool is, at the present time, the centre of the consciousness of the human universe." The club, affectionately known as 'The Blue', was the after-hours watering hole of us all during the heyday of the Mersey scene.

Situated next to an antiquarian bookshop at the top of Seel Street, near the city centre, it had previously been operating as the Wyvern Social Club. Allan Williams (left), who ran the nearby Jacaranda club in Slater Street, took over the premises in 1960. I'd been spending a lot of time at the Jacaranda, along with John Lennon, Stuart Sutcliffe, Paul McCartney, George Harrison and Pete Best, who were playing some gigs in the coffee bar basement.

Allan had co-presented a rock'n'roll concert at the Liverpool Stadium with Larry Parnes, where Gene Vincent topped the bill and several local acts had supported. Parnes was impressed with the groups and mentioned to Allan that he was looking for a backing band for Billy Fury. Auditions, organised by Allan, were set up at the Wyvern. On May 10th 1960, the groups who auditioned were Cass & The Cassanovas, Derry & The Seniors, Gerry & The Pacemakers and Cliff Roberts & The Rockers.